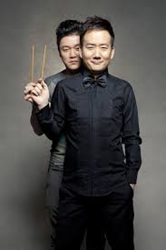 Hollywood, CA (PRWEB) November 22, 2014
Little Apple, the most watched video of all time in China, is coming to Hollywood! The music duo that created and performed the Little Apple dance, the Chopstick Brothers, have arrived in Los Angeles with their partners at Youku Tudou (Nasdaq: YOKU), China's largest video portal, to promote their music video and rub shoulders with entertainment industry heavyweights.
On May 29th, 2014, the Little Apple official music video was released on Youku.com, China's largest online video portal. Since then, the video's views including remakes have exceeded 900 million views. It now has over 83 million search results and 280,000 related videos on Baidu, China's largest search engine.
Little Apple's creators and singers are the popular Chinese musical duo the Chopstick Brothers. Consisting of two members, Xiao Yang and Wang Taili, the group's popularity has gained massive momentum since the release of the single. The duo will be attending the American Music Awards 2014 in Los Angeles on November 23rd.
Little Apple was the original theme song from their hit movie Old Boys: the Way of the Dragon. The low budget film pulled in an astonishing 200 million RMB at the domestic box office. The Little Apple music video was filmed in Korea, and choreographed by Lee Joo Sun, the same choreographer who designed the famous Gangnam Style.
Little Apple has found its way around Los Angeles this week, with flash mobs at USC and UCLA and visits with many media outlets, including FansTang's U.S. studio.
Official music video on Youtube: https://www.youtube.com/watch?v=QESBcjX-G9g
About Youku Tudou Inc.
Youku Tudou Inc. (YOKU) is China's leading Internet television company. Its Youku and Tudou Internet television platforms enable users to search, view and share high-quality video content quickly and easily across multiple devices. Its Youku brand and Tudou brand are the most recognized online video brands in China. Youku Tudou's American depositary shares, each representing 18 of Youku Tudou's Class A ordinary shares, are traded on the NYSE under the symbol "YOKU."