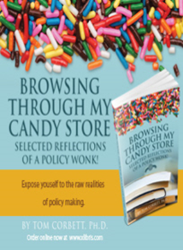 The Frustrations and Joys of Public Policy Making
Madison, Wisconsin (PRWEB) November 25, 2014
Tom Corbett's Browsing Through My Candy Store: Selected Reflections of a Policy Wonk is a book accessible to all concerned about our nation and its most vulnerable citizens. His aim is to reach current public policy students and practitioners. He argues that confronting seemingly irresolvable questions is not only worthwhile but can be an exciting and stimulating adventure. Doing policy is joyous and engaging precisely because it is hard. Doing policy well demands more than the technical skills we focus on in our colleges and universities; it demands well-rounded combatants willing to embrace what it takes to make a difference.
The author celebrates his policy-making life as a joyous adventure, difficult in the extreme but totally rewarding in the end. Success, he argues, is measured less by obvious victories and more by the sheer challenge of grappling with the wicked policy issues we face as a nation. He tells his story confronting such issues with a deft and light touch, bringing the characters to life with wit and sensitivity. It is story told by a policy wonk but accessible to all who care about this nation.
The author concludes, "If students were to find their way to my door and ask me if they should pursue a career doing policy, what would I say? I might just say the following: Well, if you care about the rules we live by, about everyone getting a fair shot in life, go for it. If you have guts, a high tolerance for pain, and can see the big picture, then let no one stand in your way. If you can imagine a just and more equitable world, permit nothing or no one to divert you from your vision."
"Corbett's reflections, woven together with great insight and humor, transform public policy from a class that is boring and mundane into a career that can be engaging and germane," asserts Karen Bogenschneider, the Rothermel Bascom Professor of Human Ecology at the University of Wisconsin.
"It was a fun read and I hope a good number of public policy students will read it and take the opportunity to learn from your experience and even listen to your advice," wrote Barry Van Lare, a long-time Washington D.C. Social Policy and Management Consultant, upon finishing the book.
Kris Moore, Ph.D., a former CEO of a Washington D.C.-based think tank focusing on the status of American children commented that "…only Tom Corbett could write a humorous book on welfare reform."
Finally, Mary Fairchild, a veteran official with the National Conference of State Legislators, wrote that Browsing through My Candy Store "…gives the reader a real take away…genuine insights into the discipline of public policy."
About the book:
Browsing Through My Candy Store: Selected Reflections of a Policy Wonk is available through XLibris Press, Bloomington Indiana (ISBN 978-1-4990-7817-6). More information is available at http://www.amazon.com and http://www.xlibris.com . For a review copy or an interview with Tom Corbett, please contact the author at corbettirp(at)aol(dot)com or call him at 608-852-3556. When requesting a review copy, please provide complete mailing address. If you would like to receive this information as a Word document, please let him know.
About the author:
Thomas Corbett (Ph.D.) has emeritus status at the University of Wisconsin-Madison and remains an active affiliate as a Senior Scientist with the Institute for Research on Poverty where he served as Associate Director for a number of years until his retirement. He has a doctorate in Social Welfare from the University of Wisconsin-Madison and for a number of years taught Social Policy courses at the undergraduate and graduate levels in the School of Social Work. Over the years, he has worked on poverty-related policy issues at all levels of government, including a year as senior policy advisor at the U.S. Department of Health and Human Services where he worked on President Clinton's first welfare reform Bill and other policy issues. Among many other initiatives, he has worked with a number of senior state officials in the Midwest on various welfare reform issues through the Welfare Peer Assistance Network (WELPAN) and has consulted with numerous state and local sites in the U.S. and Canada who are developing integrated human service models in their jurisdictions.