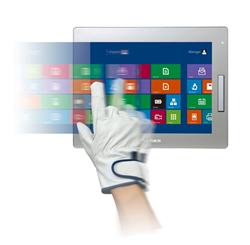 Osaka, Japan (PRWEB) November 25, 2014
Pro-face, the global leader in Human Machine Interface (HMI) and factory data communication solutions released the new FP5000 series industrial flat panel display.
The FP5000 series is an industrial flat-panel display that supports touch gesture operation and is mainly used in conjunction with industrial PCs.
In recent years, intuitive touch gestures for screen operations such as scrolling and enlarging have become the norm for smartphones and tablets.
By employing analog resistive technology in an industrial flat-panel display, Pro-face has made it possible for operators on the production work site wearing gloves to use intuitive touch-gesture operation.
The FP5000 series' use of analog resistive technology allows machines to be equipped with built-in two-touch operations aimed at preventing mis-operation.
Now Pro-face is taking orders for FP5000 series.