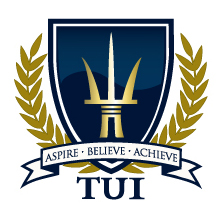 Cypress, CA (PRWEB) November 24, 2014
MBA Students Help Place Trident Among Nation's Elite Schools
Trident ranked at #15 in Graduate Programs' Fall 2014 "Online Business Grad Rankings," rubbing elbows with schools such as Florida State University, Pepperdine University, and The George Washington University. The rankings are based on data culled from ratings from current or recent graduate students posted on graduateprograms.com. Rankings cover a variety of student topics such as academic competitiveness, career support, financial aid, and quality of network. A given graduate program is not ranked until a minimum threshold of graduate student surveys is completed for that program.
Trident Again Named To Victory Media's 2015 Military Friendly® Schools List
Trident has been designated a 2015 Military Friendly® School by Victory Media, the leader in successfully connecting the military and civilian worlds. This is the fourth such time the University has been recognized. Active duty, reserve and National Guard service-members make up 66% of the University's population, and several veterans work for Trident at the faculty, staff, and management levels. Now in its sixth year, the Military Friendly® Schools designation and list by Victory Media is the premier, trusted resource for post-military success. Military Friendly provides service members transparent, data-driven ratings about post-military education and career opportunities.
Trident Recognized For Its Affordability
Trident has been a leader in academic excellence since 1998 and this year the 100% online university has been recognized by a number of surveys for the quality and affordability of its programs. Recent accolades include:

GetEducated.com has recognized Trident's Master's of Science in Health Sciences (Public Health concentration) as #3, giving it an "A" ranking.
OnlineU.org has recognized the following Trident programs as a "Best Value":
Bachelor of Science in Computer Science (#10)
Bachelor of Science in Health Sciences (#13)
Bachelor of Science in Human Resource Management (#14)
Master's of Science in Health Sciences - Public Health concentration (#10)
IBISWorld Now Available To Trident Students
Trident is happy to announce that students now have access to the powerful research tool IBISWorld, which provides industry intelligence that analyzes business opportunities and risks across 700 industries in the United States. The industry reports contain a wealth of valuable details, including supply chain information, risks, forecasts, strategies, industry profit and cost benchmarks, and more. Well-regarded and used across countless industries, the data provided comes from official sources, such as the U.S. Census Bureau, and is explained in plain language. This resource is currently accessible through links found in each classroom.
Trident Receives CAASB Approval
Trident has been approved for the California Association of Accredited Small Business (CAASB), which is an invitation only association. This organization is a non-partisan, member-driven organization working to ensure consumers are connected with only carefully vetted businesses. This serves as a confirmation of Trident's reputation as a quality business and a consumer-trusted institution. Additionally, the CAASB advocates views of small business at the state and federal level. The CAASB serves over 2,000 small and medium sized businesses across the entire state of California and is a mark of quality that helps consumers find trusted, locally-owned companies to do business with. Their mission is to ensure business rights in California are preserved through the voice of small business owners and the people.
California Advisory Council On Military Education Holds Meeting At Trident Home Office
On Thursday, September 18th, 2014, Trident was pleased to host the California Advisory Council on Military Education (CA-ACME) state members meeting. The visiting group of over 60 members encompassed leaders and luminaries from California colleges and universities, as well as leaders from the United States Department of Defense. Esmeralda Silva, the Associate Vice President of Compliance and Regulatory Affairs for Trident, was responsible for bringing this event to the University. Ms. Silva serves as the Vice President of CA-ACME.
CA-ACME main goals are the promotion of quality adult education programs and services to military personnel, veterans, and their family members and to facilitate communication between the Department of Defense education support network and member colleges and universities. These goals are closely aligned with Trident's mission and vision.
Trident University Receives $35 Million Credit Facility From Monroe Capital
Announced in October via media release, Monroe Capital LLC has acted as the sole lead arranger and administrative agent on the funding of a $35 million senior credit facility, supporting the recapitalization of Trident by a Northeast-based private equity sponsor. The publicly traded Monroe Capital LLC, based in Chicago, Illinois, is a leader in middle market investment community. The firm employs over 40 investment professionals with an average of 15 years of experience each. Monroe has been recognized by Global M&A Network as the 2013 Small Mid Market Lender of the Year and by Private Debt Investor as the 2013 Unitranche Lender of the Year.
About Trident University
Founded in 1998, Trident University International (Trident) is a leading online postsecondary university serving adult learners. Trident developed the Trident Learning Model, which employs case-based learning in an online setting to teach real-world relevant critical thinking skills to enhance the lives and careers of students. Trident offers high-quality bachelors, masters, and doctoral degree programs, led by a qualified faculty team, over 80% of who have doctoral degrees. Visit http://www.trident.edu, Trident's Facebook page, or call at (855) 290-0290 to learn more about Trident's wide range of bachelor's, master's, and doctoral programs.