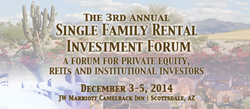 Chicago, IL (PRWEB) November 24, 2014
Jorge Newbery, founder and CEO of real estate crowdfunding platform American Homeowner Preservation("AHP"), will participate in the Getting a Loan to Re-Perform panel at IMN's Single Family Investment Forum. The conference is tailored to private equity, REITs and institutional investors and will take place at the JW Marriott Camelback Inn in Scottsdale, AZ December 3-5. The Getting a Loan to Re-Perform panel will take place on Thursday, December 4, 2014.
Bill Bymel, a founding partner at RSI Asset Management will serve as session chair. Joining Newbery as panelists will be Joseph Cvelbar of Consolidated Credit Services, Michael Moreland of Trax Financial, Peter Slagowitz of Spurs Capital LLC and Tim Siebelink of Capital Financial Resources. Some of the topics that will be explored include key characteristics of the loan, the property and the borrower, modification terms, different note owner strategies and goals, and determining the loan affordability for the property owner.
AHP specializes in purchase pools of non-performing mortgages at discounts and offering viable solutions to borrowers. AHP is able to get loans to re-perform through loan modifications which reduce payments to an affordable level and discount principal to current market value. Other options include discounted settlement options and cash incentives for deeds in lieu of foreclosure. Accredited investors, both private parties and institutions, funds AHP's acquisitions. Investors earn returns of 9 – 12% annually.
"Our company began in 2008 as a remedy for the foreclosure crisis by purchasing homes at short sale and renting them back to the owner, allowing them to stay in their homes," Newbery said. "Dealing with banks and servicers proved to be extremely difficult. The only means to have a substantial impact was to eliminate the banks and servicers and buy the loans ourselves. This gives us tremendous flexibility in getting these loans to re-perform while providing returns for our investors."
American Homeowner Preservation is a socially responsible investment fund manager which empowers accredited investors to purchase equity in pools of distressed mortgages and earn returns of 9-12%. For further information or inquiries please visit https://ahpinvest.com or call 800-555-1055.