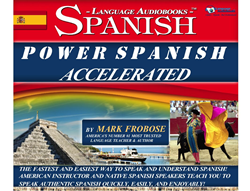 Champaign, IL (PRWEB) November 26, 2014
One of America's most cherished holidays approaches, and with it comes lots of turkey.
Turkey. A strange word, even in English. But how would you say it in Spanish?
"Spanish actually has several ways of saying "turkey" depending upon which country you are from," explains Mark Frobose, bestselling author of Power Spanish Conversation Intensive.
"The standard Castilian Spanish word for turkey is 'pavo', explains Frobose, who also penned the ever-popular Power Spanish 1 Accelerated.
So which Spanish-speaking countries do not use the word 'pavo" for turkey?
"Mexico is the most notable Spanish-speaking country for not using the common Spanish word for turkey," Mark explains.
"In Mexico, the Aztec indian word 'guajolote' is most commonly used for turkey," elaborates the bestselling author of Mexican Spanish Accelerated.
Learn Languages Everywhere™ is the motto of LanguageAudiobooks.com. The Language Audiobooks® method is an extremely effective and versatile audio language learning system that can be used anywhere for any duration of time to teach people to speak any language while in the car, at home or on a smartphone!
Free sample lessons of Language Audiobooks' popular Power Spanish, Power French, Power Italian, Bite-Sized Mandarin, Conversational Latin-American Spanish, Clean French Slang and other innovative language programs are available now at LanguageAudiobooks.com and at Audible.com.