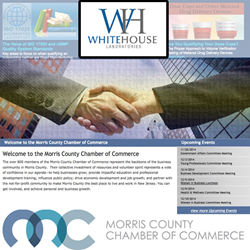 We quickly realized that the Chamber would greatly enhance our business opportunities and add a new level of contact with current clients and open doors with potential clients'
Morristown, NJ (PRWEB) November 25, 2014
Whitehouse Laboratories is pleased to announce that it has officially joined the Morris County (New Jersey) Chamber of Commerce as a member. The MCCC, which is a leading business organization in the North Jersey area, offers Whitehouse Laboratories a unique opportunity to further engage some key clients in the pharmaceutical and biotechnology areas that also have operations in the geographic area. Membership enables Whitehouse Laboratories a higher level of visibility to these local companies and fosters new relationships with other FDA regulated companies that also understand the value of MCCC membership. Even in its infancy, the new membership has already resulted in positive meetings with potential key clients.
"The leaders of the MCCC, Paul Boudreau and Angela Kubisky, presented Whitehouse Laboratories with a unique value proposition and highlighted key member benefits. After numerous meetings and discussions, we quickly realized that the Chamber would greatly enhance our business opportunities and add a new level of contact with current clients and open doors with potential clients," commented Mark Stier, Chief Operations Officer. "We have already taken part in several of their networking forums and we look forward to future chamber events to leverage more opportunities to build and strengthen new relationships."
Angela Kubisky, Executive Vice President of the Morris Chamber of Commerce was also delighted to add Whitehouse Laboratories as a new member and had this to say: "We are delighted to welcome Whitehouse Laboratories as a new member and look forward to delivering value by making strategic introductions and giving them a platform to broaden their reach and promote their brand. We are encouraged by the way some of our existing members have already opened their doors to have deeper conversations with representatives from Whitehouse resulting in more business opportunities."
About Whitehouse Laboratories
The Testing Partner to Manufacturing Companies, Whitehouse Labs is an FDA regulated, DEA Licensed, ISO 17025 and ISTA certified contract service provider to the pharmaceutical, medical device, personal and consumer product industries. Whitehouse Laboratories offers analytical services for the testing of materials, finished products, container and package systems that enable our clients to meet and exceed the required quality standards established by the key regulatory agencies.
About the Morris County Chamber of Commerce
With more than 850 members, the Morris County Chamber of Commerce exists to support strong economic growth and promote a vibrant business community. Through opportunities to participate in committees, programs and events, the Chamber facilitates member connection with Morris County insiders. Members expand their customer base through diverse levels of networking; a voice in local and state government; promotional opportunities; community involvement; work force growth and development; support for diversity initiatives; identification of best practices; and facilitation of emergency preparedness and business continuity. Visit us at http://www.morrischamber.org.