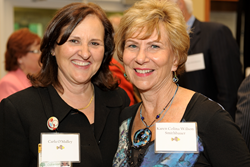 "We want to transform the way we care for women. A woman's healthcare needs change over time and we want to empower and support women throughout all seasons of their lives."
Dearborn, MI (PRWEB) November 26, 2014
Karen Colina Wilson Smithbauer has announced a $1 Million challenge to spur increased giving to women's initiatives at Oakwood. Karen's commitment provides a dollar for dollar match for any donation received by Oakwood of $1,000 or more, up to $1 million. By rising to this challenge, donors can double the impact of their gift to support women's health. But they'll have to act quickly. Only gifts received by December 31, 2014 will be eligible for the match.
Oakwood's goal is to raise $8 million for women's health initiatives over the next 5 years. Planned investments in Women's Health include the purchase of new technology and equipment that allows for earlier detection and less invasive treatments for breast cancer, as well as the expansion of targeted clinics and programs including breast care and breast surgery, menopause, mental health and osteoporosis. "We want to transform the way we care for women," said Nancy Gray, Administrator for Women's Health at Oakwood. "A woman's healthcare needs change over time and we want to empower and support women throughout all seasons of their lives."
Being a breast cancer survivor herself, Smithbauer's commitment to Oakwood extends beyond her generosity to the Oakwood Foundation. She serves as chairwoman of Oakwood's Women's Health Advisory Committee and is a distinguished Oakwood Foundation Board Member.
Oakwood Foundation Executive Director and President, Carla O'Malley said, "Karen's generosity, evidenced by her personal gifts and her leadership, is an important boost to our ability to meet and exceed the expectations of women who turn to Oakwood for their care. We are excited to take on her challenge and hope that it will inspire others to make charitable investments."
Over the years, Karen has provided over $7.2 million in charitable support for a number of projects and services at Oakwood. Her latest gift will be used to double the size of the Karen Colina Wilson Smithbauer Breast Care Center at Oakwood Southshore in Trenton, fund a new pavilion named for Smithbauer at the Southshore location and create a new women's health center at Oakwood Hospital-Dearborn Medical Park. Funds will also be used for equipment and technology, and community outreach.
To contribute to the Karen Colina Wilson Smithbauer Challenge or to learn more about Give Tomorrows, Oakwood's Campaign for Caring, call the Oakwood Foundation at 313.586.5234 or visit http://www.oakwood.org/foundation. To qualify for the match, donations must be made by December 31, 2014, however, some gifts may be pledged over a period of time.