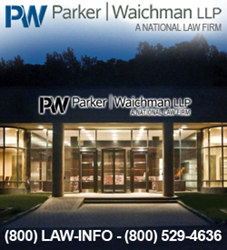 "We represent numerous women in transvaginal mesh lawsuits and continue to provide free legal consultations to anyone who wants to know more about their legal rights."
Port Washington, New York (PRWEB) November 25, 2014
Parker Waichman LLP, a national law firm dedicated to protecting the rights of victims injured by defective drugs and medical devices, is commenting on the outcome of the second federal trial over injuries allegedly caused by Boston Scientific's pelvic mesh products. The case is Canterbury v. Boston Scientific Corp. (Case No. 2:12-cv-08633) in the U.S. District Court for the Southern District of West Virginia.
The trial weighed the claims of four women who alleged that they were injured by Boston Scientific's Obtryx Transobturator Mid-Urethra Sling System. The device was defective in design and the company failed to adequately warn about the risks, the women alleged. The $18.5 million verdict includes $14.5 million in compensatory damages to the women as well as $4 million in punitive damages.
"We are pleased with the jury's decision," said Gary Falkowitz, Managing Attorney at Parker Waichman LLP. "We represent numerous women in transvaginal mesh lawsuits and continue to provide free legal consultations to anyone who wants to know more about their legal rights."
Boston Scientific was recently ordered to pay $26.7 million in the first federal trial over a different transvaginal mesh product, the Pinnacle Pelvic Floor Repair Kit. The case is Amal Eghnayem et al. v. Boston Scientific Corp., case number 1:14-cv-24061, in the U.S. District Court for the Southern District of Florida. The jury found that Boston Scientific designed the product defectively and failed to warn about the risks. The plaintiffs in the case similarly alleged that the Pinnacle caused infection, scar tissue, organ perforation, blood loss, and chronic pelvic pain, among other injuries.
In September, Boston Scientific suffered its first legal loss over pelvic mesh products; a Texas jury found that a safer design was available for the company's Obtryx Transobturator Mid-Urethral Sling and ordered the company to pay $73 million. The jury also found that Boston Scientific acted with gross negligence and that the devices are unreasonably dangerous as marketed. That case is Salazar v. Lopez, case number DC-1214349, in the District Court for Dallas County, 95th Judicial District of Texas.
Parker Waichman has filed a number of lawsuits against vaginal mesh device makers:

Johnson & Johnson (In Re: Ethicon, Inc., Pelvic Repair Systems Products Liability Litigation, MDL No. 2327
American Medical Systems (In Re: American Medical Systems, Inc., Pelvic Repair Systems Products Liability Litigation, MDL No. 2325)
Boston Scientific (In Re: Boston Scientific Corp., Pelvic Repair Systems Products Liability Litigation, MDL No. 2326).
Parker Waichman LLP continues to offer free lawsuit consultations to victims of transvaginal mesh, pelvic mesh, and vaginal implant injuries. If you or a loved one experienced complications following mesh-related surgery for pelvic organ prolapse (POP) or stress urinary incontinence (SUI), please visit the firm's transvaginal mesh injury page at yourlawyer.com. Free case evaluations are also available by calling 1-800-LAW-INFO (1-800-529-4636).