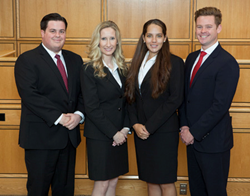 GULFPORT, FL (PRWEB) November 24, 2014
Stetson University College of Law students were named best advocates at the 13th Annual National Civil Trial Competition in Los Angeles on Nov. 16. Loyola Law School won the competition.
Stetson's team of Chad Florin, Daniel Miles, Candice Rojas and Lisa Ungerbuehler placed second in the competition. Rojas was named Best Advocate in the Final Round and Miles was named Best Advocate in the Preliminary Round.
More than 50 law schools from around the country competed for a chance to win the national competition, and only 16 schools advanced to the finals.
Stetson University Trial Advocacy Coordinator and Associate Professor of Legal Skills Michele Joiner and Lee Coppock '96 coached the Stetson team.
Stetson's trial advocacy ranking has been best in the nation 16 times according to U.S. News & World Report.
To learn more about advocacy at Stetson, visit http://www.stetson.edu/law/advocacy.
About Stetson University College of Law
Stetson University College of Law, Florida's first law school, has prepared lawyers and leaders since 1900. Today, Stetson leads the nation in blending legal doctrine with practical training, evidenced by its top-ranked programs in advocacy and legal writing. Through our academically rigorous curriculum and commitment to social responsibility, Stetson lawyers are ethical advocates ready to succeed in the legal profession.