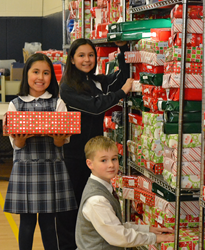 Lemont, IL (PRWEB) November 25, 2014
Ever wonder what Christmas is like for people on the fringes of society, those who struggle to find hope and optimism in their everyday lives? What about the children in these families? What is Christmastime like for those children who grow up in homes where economic hardship is a grim reality and they go to bed at night not knowing what the next day will hold for them? Christmas should be a time of hope, a time of joy and optimism for every child. Members of the local community, together with the students and families of Everest Academy, are working together to ensure just that.
On Sunday, November 16th, the gymnasium at Everest Academy Lemont was bustling with final preparations for the 2014 Christmas Bash to be held there November 30, 2014. Friends and families from all over the community volunteered their time and talents preparing gifts for 500 needy people in the local area. Over 5,000 new clothing items, life's staples, and electronic educational tools were sorted, wrapped and lovingly prepared in a spirit of true community and charity, each gift box including a card personally signed by an Everest student. Recognizing their responsibility to be strong Christian leaders, the students had been putting their faith into action for weeks, as each class campaigned for and collected a pre-assigned item. From school supplies and toys to personal hygiene products, food and baby goods, Everest students were encouraged to go out into their neighborhoods and ask for donations. Because of the outpouring of gifts and support from the students and several community members, two separate Christmas Bash parties have been scheduled for the day. The goal of these "Bashes" is to create a celebration of positive memories, providing some of life's necessities in an atmosphere of fun and optimism where dreams can grow big.
The organizers of the 2014 Christmas Bash are grateful to all the volunteers who have donated their time and treasures, especially those in the community who have sponsored the event: Mayor Brian Reeves and family (new toy sponsor), Dr. Maryann Hollis (technology sponsor), The Akroush Family (technology sponsor), Jason and Christine Bacza (technology and sweet table sponsor), the O'Malley Family (craft sponsor), Gelsosomos of Lemont (food sponsor), The Patti Group (gift sponsor), and Friends of the Christmas Bash (small appliance sponsor). The families of Everest could not have made the Christmas Bash such a success without the support of these community members.
Everest Academy is an independent Roman Catholic school in Lemont educating children from preschool through eighth grade. The teachers and staff are dedicated to forming the whole child by providing the highest level of academics, by building strong character, and by preparing generous leaders ready to serve the community. If you would like to learn more about Everest Academy's unique approach to education or get involved in the Community Christmas Bash 2014, please contact KC Wollenberg at 630-243-1995 or visit http://www.everestadvantage.org.