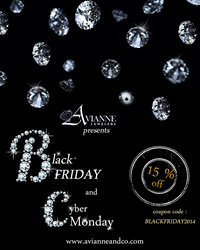 New York, NY (PRWEB) November 25, 2014
This holiday season, celebrity jeweler, Avianne & Co is treating customers with their first ever four-day long sale. Starting November 29th, 12am – otherwise known as "Black Friday" all jewelry pieces on their web store will be available for purchase at 15% off with the use of coupon code, BLACKFRIDAY2014 during check out.
This year around Avianne & Co has decided to team up this weekend long sale with it's Cyber Monday deals in celebrations to the upcoming holiday seasons. The sale will apply to all items such as diamond rings, gemstone bracelets, gold chains, pendants as well as pieces from their Royal Collection which has become famous among celebrities.
All of these items can be purchased online at http://www.avianneandco.com. The sale will last from Friday, November 29th 12:00am until Tuesday, December 2nd, 12:00am EST.
Known internationally for their craftsmanship and devotion to their clients, the service and dedication provided by the master jewelers at Avianne & Co is what distinguishes them in today's jewelry market.