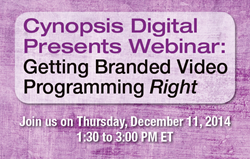 New York, NY (PRWEB) November 26, 2014
Branded video programming is fueling the boom of original content, creating a source of revenue for networks and giving brands greater digital reach. Networks are now required to help clients create highly engaging branded content for multi-platforms so that material is presented in innovative ways to lure online audiences to pay attention and ultimately, make purchases. Join Cynopsis Digital on Thursday, December 11 for the interactive webinar, "Getting Branded Video Programming Right" and find out how smart networks are assisting clients in optimizing the branded content space in fresh and entertaining ways in order to connect with viewers to lift brand awareness and ROI.
Cynopsis Digital Associate Editor Jessica Reese, will host the December 11 webinar along with the following experts: Stuart McLean, Founder & CEO for Content & Co.; Danielle Lee, VP of Commercial Marketing for Vevo; Tim Staples, Founding Partner for Shareability; and Seraj Bharwani, Chief Analytics Officer for Visible Measures.
At this webinar, attendees will learn:

The power of "storytelling" and how to create a narrative around a brand that transforms into engagement and awareness
How to extrapolate from a company's basic products to develop related content that extends a brand – without cannibalizing it
Techniques for sending a message without bombarding the viewer, and remaining authentic
How to leverage influencers to help spread your agenda
How to harness photo, film, video and rich media to create compelling material that expands a company's voice and image
The correct blend of user-generated-content (UGC) with professional material
Effective ways to employ social media networks to increase the chances of a campaign going viral
This highly interactive webinar will allow for real time Q&A's to ensure specific questions are answered. Register today for the Cynopsis Digital webinar "Getting Branded Video Programming Right."
All webinar attendees will receive full access to speaker presentations for 1 year, along with a certificate of completion. Webinar tuition is based on location, not number of participants, so each registration site can have multiple participants for one low price. Questions? Contact Trish Pihonak at trish@cynopsis.com.
About Cynopsis Media:
Cynopsis Media is a division of Access Intelligence LLC. The Cynopsis Media family of products includes Cynopsis, Cynopsis Digital and Cynopsis Sports daily e-publications, weekly Cynopsis Kids and Cynopsis Classified Advantage e-publications, Special eReports, Event/Summits and a strong database of Classifieds and more. Visit cynopsis.com.
###