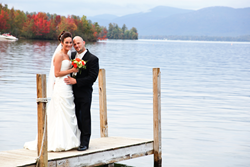 The wedding reception is a celebration of your wedding day
Lake George, NY (PRWEB) December 04, 2014
The Georgian Lakeside Resort is located in the heart of Lake George Village and has long been associated with memorable Summer vacations. Lake George, the Queen of American Lakes, is in the Southern Adirondack Park of New York, about an hour North of Albany. Georgian guests enjoy a spectacular lakefront pool, patio, and outdoor Cabana Bar in addition to the onsite restaurant, Giovanna's On The Lake. The centerpiece for Georgian lakefront wedding ceremonies and receptions is a spectacular outside patio and a 300 seat ballroom called The Terrace Room.
It may seem like a simple process to plan a wedding. Just pick a date, plan the day, have fun, and head off into a romantic sunset. But there is so much more to consider and the wedding professionals at The Georgian will guide your wedding plan every step of the way. Start making wedding plans early. That logical first step is indeed to pick a date with at least one alternative date. To have the wedding of your dreams you need the date that is convenient for you, families and guests. Whether it is Spring wedding with flowers in bloom, a warm Summer wedding or a spectacular Fall foliage Wedding, picking a date eight months to a year in advance will ensure the wedding date you want. A deposit is generally required to save your date.
Next, in the planning cascade for the wedding of your dreams is to decide the type of wedding you want. The Georgian can host a simple ceremony with a basic cocktail hour and dinner reception. Or the Georgian can produce a large wedding event with indoor and outdoor live music, lakefront patio ceremony, lavish cocktail and hors d'oeuvres reception with an elegant sit-down formal dinner service, and just about anything in between. There are many concerns to consider: budget, style, customs, and above all comfort. The wedding of your dreams should be a comfortable relaxed affair for you, your spouse to be, your families and guests.
The menu is at the heart of any wedding reception. The Georgian Resort has one of the area's finest executive chefs and a dedicated team of food and beverage professionals to create the wedding of your dreams. The wedding reception is a celebration of your wedding day and it can take many forms. The reception can offer hors d'oeuvres and a buffet dinner, or an elegant sit-down dinner. Bar options can be a simple beer and wine bar, to open bars, cash bars, a tab bar and all combined options in between. Local wines and craft beers and new local distilled spirits offer a great local flair to your wedding reception. The wedding planners at the Georgian will tailor the reception to your budget and your wishes to make the wedding of your dreams a reality.
An added bonus of a resort wedding is the availability of discount accommodations for your out of town guests and the bridal party. Lake George is one of the East's premier vacation destinations with a wide range of activities and attractions, making your wedding a great vacation getaway for guests. Visitors to Lake George enjoy spectacular lake cruises on the 32 mile lake, amusement parks, miles of hiking trails, distinctive shops and cafes, whitewater rafting on 2 rivers, and more.
The Georgian also has a list of referrals for premier wedding professionals for photography and video services, bakeries, florists, bridal shops, and more. Visit the Georgian Resort wedding page for more information. Fill out our contact form or give us a call today to start planning the wedding of your dreams. Georgian Lakeside Resort 800-LAKE-GEORGE