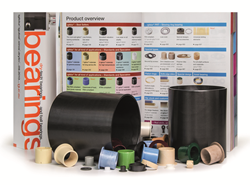 East Providence, Rhode Island (PRWEB) November 25, 2014
The already diverse igus plain bearings catalog is becoming just a bit bigger in the hopes of offering the right plain bearing for every application from stock. 117 products will be added to the catalog and stock offerings, including size extensions of the high-tech and extremely temperature and chemical resistant iglide T500. Six new dimensions, from 80-120mm inner diameters of the T500 plain bearings will help round out igus' large-diameter bearing range. "Until now, we mainly offered our 'standard materials – iglide G300, J, and L280 – in these larger sizes," explained dry-tech Product Manager Nicole Lang, "the T500 was missing here."
The T500 material is suitable for continuous use in temperatures ranging from -148º to 482ºF, as well as universal chemical resistance and very high compressive strength. The size extensions being added to igus' standard range results from the requirements of laboratory and practical tests, as well as direct interaction with customers.
Steady growth and high number of standard catalog products at igus is largely due to the variety of materials offered by the company. Ranging from cost-effective all-around bearings to FDA approved, high temperature, or underwater ready bearings, there are perfectly suited component solutions for almost any application in the igus catalog.
iglide plain bearings do not require any external lubrication, making them completely maintenance-free, and excellent in dry-operation. Following the motto "Install and Forget," iglide bearings reliably operate throughout their service life, contributing to the safety of machines. In the United States alone, failure costs due to insufficient lubrication add up to approximately $240 billion annually, according to a study conducted by MIT. The service life of igus' plain bearings can easily be predicted online, using free lifetime calculator tools. These tools have been created using results from the over 15,000 plain bearing tests conducted each year in igus' in-house laboratory, the largest test lab of its kind.
About igus®
igus® develops industry-leading Energy Chain® cable carriers, Chainflex® Motion Cables, DryLin® linear bearings and linear guides, iglide® plastic bushings, and igubal® spherical bearings. These seemingly unrelated products are linked together through a belief in making functionally advanced, yet affordable plastic components and assemblies. With plastic bearing experience since 1964, cable carrier experience since 1971 and Motion Cables since 1989, igus provides the right solution from over 100,000 products available from stock. No minimum order required. For more information, contact igus at 1-800-521-2747 or visit http://www.igus.com.