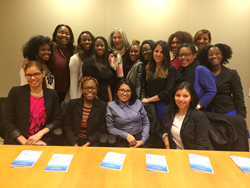 "If it feels like work - get out!"
New York, New York (PRWEB) November 26, 2014
Over lunch and tea, Founder and Global Creative Director of essie cosmetics, Essie Weingarten, told an all-female audience that in life you have to find your passion. She said, "If it feels like work - get out!"
Weingarten presented at Mercy College's Lunch with a Leader Career Program, a program that brings successful men and women to campus to talk about their career paths, missteps and life advice. The lunch took place November 20 at Mercy's Manhattan campus.
Weingarten founded essie cosmetics in New York City in 1981. Equipped with her first collection of 12 stunning nail colors, witty names and sheer determination, Essie set out for Las Vegas, the land of the glamorous and wealthy, to promote her polishes. Salons loved them, as did their high-end clientele, and the brand's popularity grew overnight. Information about the brand spread by word of mouth and pretty soon salons and spas all over the world began requesting essie nail polish. More than 30 years and 900 nail colors later – essie cosmetics is still a favorite among beauty and fashion editors, celebrities, top manicurists and sophisticated women around the world.
The 16 female Mercy students who attended Weingarten's lunch were star struck at first, but then quickly opened up and asked her a range of questions from how her education influenced her business decisions to what the highlight of her business career was. Weingarten, who also completed her college degree at night while working full time, encouraged the women to follow their passion, never take no for an answer and never give up.
Weingarten said: "You never know what turns you are going to have in life, you never know what direction you are going to go in. Leave everything open, and try to find something you enjoy – so you don't have to feel like you are 'working' every day. Never burn bridges."
She went on to explain that she understands the struggles many Mercy College students face, trying to juggle work and school. "For me I was going to school at night and working during the day – that is when I fell in love with the fashion industry. I know how hard it is to work and go to school – but when you feel overwhelmed you just stop and take one deep breath and put a smile on your face."
On the lunch, Senior Director of Career Services Jill Hart said: "Essie is amazing. The messages she left with our students, such as the importance of finishing their degrees, hard work and getting priorities straight, were important. However, more than that, she gave them the sense that they can control their own lives and careers, and that they have it within them to do whatever they want to do. She was truly an inspiration to our students."
About Mercy College
Founded in 1950, Mercy College is a private, not-for-profit higher education institution that offers more than 90 undergraduate and graduate degree and certificate programs within five prestigious schools: Business, Education, Health and Natural Sciences, Liberal Arts and Social and Behavioral Sciences. Mercy College offers an engaging and personalized learning experience that includes the College's revolutionary Personalized Achievement Contract (PACT) program. The Mercy College PACT is the first program of its kind and now serves as a nationally recognized model for mentoring. http://www.mercy.edu/ 877-MERCY-GO.
###