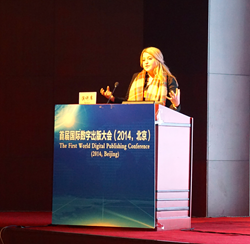 "I am proud to be among those chosen from the US to represent the digital publishing community." Kait Neese, CEO, BSBRD
Beijing, China (PRWEB) November 25, 2014
The first World Digital Publishing Conference brought together influential publishing industry leaders from all over the globe to discuss the "Handheld Revolution of the Publishing Industry". A number of top industry leaders from China were also in attendance, including Yushan Wei, President, Chinese Academy of Press and Publication; KanMin, Vice President, DangDang.com; as well as Qingchen Hou, Vice President of Tencent Literature.
The First World Digital Publishing Conference was organized by the Chinese Academy for Press and Publication and CNKI Technology. The event was held in the Beijing, China at the International Conference Center on November 18th – 20th, 2014. Ms. Neese was one of eight international guest speakers invited to give a presentation on their area of expertise in digital publishing. The international guest speakers were from the United States, Germany, Italy and Brazil and included Mr. Robert E. Baensch, Director of Publishing Programs of NYU Global Centre; Jane Friedman, CEO of Open Road Integrated Media; Carlo Carrenho, Founder of Publish News; Michael Kim, CEO of i-epub and more.
The topic of Ms. Neese's speech was "The Internet of Books: A Comparison of China and U.S. Book Related Websites and Companies".  As CEO of Best Selling Books Rights & Distribution and former Vice President of Publish On Demand Global, Ms. Neese has gained widespread knowledge of how mobile technology is shaping the future of the publishing industry.
Neese commented, "Reading will always be with us as humans. And whether we read on a computer, a physical book, a smartphone, or Google Glass, there will always be a publisher and distributor and author somewhere behind the scenes." Ms. Neese continued, "this conference pulled together a number of global powerhouses that will be leading the reading revolution and I am proud to be among those chosen from the US to represent the digital publishing community in China." BSBRD is proud to have been a part of this landmark event.
About Kait Neese
Kait Neese attended Loyola University for a degree in International Trade & Finance. She is the CEO of Best Selling Books Rights & Distribution Co.  Previously she was the Vice President of Publish On Demand Global (PODG) where she attended over 39 international book fairs and managed the aggregation of over 50,000 eBooks. As a digital publishing veteran, Ms. Neese is one of the foremost experts on the international distribution of digital content and is considered to be the international voice of the independent author and small publishers.  She has also opened up digital book sales channels in China, India, Taiwan, Korea, Malaysia and numerous other territories.
About BSBRD
Best Selling Books Rights & Distribution' mission is to be the international voice of the independent author and small publisher.  BSBRD provides rights consulting and distribution to thousands of independent book professionals that lack the resources to expand internationally.  BSBRD has very strong networks in Asia and Latin America in addition to their networks throughout the West.
Best Selling Books Rights & Distribution Co.
USA: 1 (850) 830-4409
PressManager(at)BestSellingBooksRightsAgency(dot)com