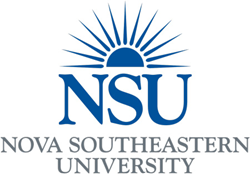 "Avoiding online fraud can seem like a tricky proposition especially during the holiday shopping season," said Wei Li, Ph.D., who helped develop these tips with information security expert and professor Gurvirender Tejay, Ph.D.
Fort Lauderdale-Davie, Fla. (PRWEB) November 25, 2014
For some, hitting the malls during the Thanksgiving holiday is as traditional as turkey, gravy, green bean casserole and the Macy's Parade. For others, skipping the brick-and-mortar stores and heading online for Cyber Monday is the way they start their holiday shopping season.
For those online shoppers, Nova Southeastern University has some tips and information to help keep you safe in cyberspace as you buy this year's perfect gift. Shopping online can be fun and convenient, but there are a few pitfalls that come with the experience as well.
"With the significant increases in data breaches, phishing attacks are going to be more sophisticated this holiday season," said Yair Levy, Ph.D., professor of Information Systems and Cybersecurity at Nova Southeastern University's (NSU)'s Graduate School of Computer and Information Sciences.
Levy pointed to something online criminals are doing more and more – stealing information from companies, then using it to send phishing e-mails to individuals that look legitimate because they contain personal information. It's when you click on suspect links in such e-mails that you fall victim to their trap. Levy said consumers must be especially vigilant this time of year and avoid clicking on links contained in any suspect e-mail.
NSU doesn't want you to become a victim while shopping online this holiday season. Instead, stay ahead of would-be Internet crooks by following these steps to stay safe during online interactions:
Open sesame is not so good. Use a combination of alphanumeric and pass phrases to create strong passwords that are difficult to guess or break. Do not record passwords in accessible spaces such as your desk drawer. If you want to store the password on your computer, do encrypt that file using encryption software from a recognized vendor. Do not share your password, secret code, or answer to the secret question with anyone. Finally, remember to change your passwords on a quarterly basis.
No independent second life. Be aware that your virtual life is not separate from your real life. Any data provided on social networking websites (e-mails, chats, blogs) leaves an electronic trail and has the potential to be viewed by other users. So, practice prudent posting and create usernames or e-mail addresses that do not contain any information that is directly traceable to you. Don't forget that even if you delete the information, the data may still exist.
Look for the "lock" for trusted websites before engaging in any online transaction. The small "lock" icon in your web browser will tell you whether the transactions are encrypted or not. Also, secure websites usually have an address starting with "https" instead of "http". Finally, check the site you are visiting for webseals of approval such as BBBOnline, Truste, WebTrust, and Verisign. These webseals are awarded to merchants who abide by information security and privacy guidelines outlined by the government and industry groups.
I am not the weakest link. With a little caution and awareness, an individual can serve as the strongest defense against social engineering attacks. These attacks involve tricking people to divulge confidential or private information to perpetrate a computer crime. Be prepared to say NO. For example, if you get a call claiming to be from your bank technology support, do not provide any confidential information (such as account number or password) at that time. Instead, call back using the phone number from your records. Social engineering attacks may also be carried out using emails or automated software programs. Always check the source of any e-mail or automated program.
Not so private computers. Be careful while using a public computer or wireless networks including Wi-Fi hotspots. While using computers provided in the library or at an Internet café, do not allow automatic log-on or the option to remember your username and password. If you're using a mobile device, it is always recommended to use your own data plan to gain access without the need to "agree" for the terms when accessing free Wi-Fi, as by clicking on that "agree", it can download a malware to the mobile device. Also, don't forget to delete visiting history, cache and cookies after use. Avoid online financial transactions while using public wireless networks.
E-mail safe sense. Do not open or click on any suspicious e-mail. Make it a habit to never fill out forms or provide information through links provided in an e-mail, instead go directly to the website of the merchant by typing the web address and then fill out the online form if necessary. Use encryption when sharing sensitive personal information online.
"Avoiding online fraud can seem like a tricky proposition especially during the holiday shopping season," said Wei Li, Ph.D., who helped develop these tips with information security expert and professor Gurvirender Tejay, Ph.D. "Criminals develop new scams every day, but with a few simple safety precautions you can greatly reduce the likelihood that you will fall victim to an Internet crime."
-NSU-
About NSU's Graduate School of Computer and Information Sciences (GSCIS): The GSCIS provides educational programs of distinction to prepare students for leadership roles in the computer and information sciences field. With internationally recognized faculty, innovative curricula, and flexible online and campus-based formats for its five Master of Science, three Ph.D. and two certificate programs – the GSCIS's graduates are sought after around the world. Designated a National Center of Academic Excellence in Information Assurance Education, their information assurance curriculum is recognized by the National Security Agency and the Department of Homeland Security. For more information, please visit http://www.nova.edu/scis
About Nova Southeastern University: Situated on 314 beautiful acres in Ft. Lauderdale, Florida, Nova Southeastern University (NSU) is a dynamic research institution dedicated to providing high-quality educational programs at all levels. NSU is an independent, not-for-profit institution with 26,000 students at campuses in Fort Lauderdale, Fort Myers, Jacksonville, Miami, Orlando, Palm Beach and Tampa, Florida as well as San Juan, Puerto Rico. NSU awards associate's, bachelor's, master's, specialist, doctoral and first-professional degrees in a wide range of fields. NSU is classified as a research university with "high research activity" by the Carnegie Foundation for the Advancement of Teaching, and it is one of only 37 universities nationwide to also be awarded Carnegie's Community Engagement Classification. For more information, please visit http://www.nova.edu Celebrating 50 years of academic excellence!