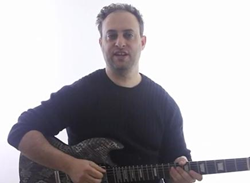 Today's lick is in A flat pentatonic, but its up on the octave
(PRWEB) November 26, 2014
"Today's lick is in A flat pentatonic", says Johnson, "but its up on the octave". Claude is talking about the release of GuitarControl.com's new easy blues video lesson now available on YouTube. This video is another of many free video lessons put out by GuitarControl.com that are sure to help anyone improve on the guitar. Johnson does a great job of breaking the lick down so that it is easy to follow along with, no matter your skill level. The lick starts out with a three note per string minor pentatonic sequence of a four note pattern and then shifts up to another position of the scale and descends with another four note pattern. "Check out my course Supercharged Soloing Made Simple for more three note per string licks", says Johnson. Guitar TAB's are available for this easy blues lead guitar lesson at GuitarControl.com.
A Pentatonic Scale is a musical scale with five notes per octave and is very common and found all over the world.
Claude Johnson
Claude Johnson, a native of Philadelphia PA, began playing guitar in 1990 after being inspired by players like Jimi Hendrix, Eric Clapton, and Stevie Ray Vaughn. He is the creator of GuitarControl.com and has helped 1000's of people to learn to play the guitar with his critically acclaimed instructional DVD courses, all available at GuitarControl.com
About GuitarControl.com
GuitarControl.com is the leader in modern guitar instruction. It's packed with recourses including articles, video lessons, and the best videos in the business for the beginner to the advanced guitar student taught by the best instructors out there. Weather you are into the blues, rock, jazz, metal, folk, or anything in between, they have you covered.