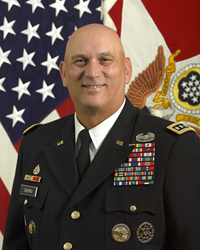 "It is our privilege indeed to honor General Odierno for his distinguished career as a soldier and a leader," said Dr. Rob Havers, President George C. Marshall Foundation
Lexington, Virginia (PRWEB) November 28, 2014
Gen. Raymond T. Odierno will receive the Goodpaster Award at a luncheon in Washington on December 5 at the Ronald Reagan Building and International Trade Center. Gen. Odierno is the 38th U.S. Army chief of staff. He will be honored for his distinguished career in the U.S. Army.
The Andrew J. Goodpaster Award of the George C. Marshall Foundation honors the life and service of General Andrew J. Goodpaster, a longtime trustee and chairman of the Foundation, a champion of the Marshall legacy, an American hero and an extraordinary public servant. The Goodpaster Award is presented to Americans in a variety of fields who have exhibited great courage, selfless service, patriotism and leadership in their lives and careers.
General Odierno assumed duty as the 38th chief of staff of the U.S. Army in September 2011. A native of Rockaway, NJ, he graduated from the United States Military Academy at West Point in 1976 with a commission in field artillery. During more than 37 years of service, he has commanded units at every echelon, from platoon to theater, with duty in Germany, Albania, Kuwait, Iraq, and the United States. After his first assignment with U.S. Army Europe, he was assigned to the XVIII Airborne Corps Artillery at Fort Bragg, NC, where he commanded two batteries and served as a battalion operations officer.
General Odierno served as a battalion executive officer and division artillery executive officer including deployment for Operations DESERT SHIELD and DESERT STORM. He later commanded 2nd Battalion, 8th Field Artillery, 7th Infantry Division, and the Division Artillery, 1st Cavalry Division. From October 2001 to June 2004, General Odierno commanded the 4th Infantry Division, leading the division during Operation IRAQI FREEDOM from April 2003 to March 2004. From December 2006 to February 2008, he served as the Commanding General, Multi-National Corps–Iraq (III Corps) as the operational commander of the surge of forces. Later, he served as the Commanding General, Multi-National Force-Iraq and subsequently United States Forces–Iraq, from September 2008 until September 2010. From October 2010 until August 2011, he was the Commander of United States Joint Forces Command.
The George C. Marshall Foundation, located in Lexington, Virginia, preserves, protects and promotes the legacy of George C. Marshall, who was Army chief of staff during World War II, secretary of state following WWII and secretary of defense during the Korean War. The Marshall Foundation is the only place where the principles that motivated Marshall are kept alive through educational programs, online presence and facilities including a museum, research library, and archives.