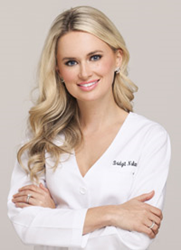 Miami, FL (PRWEB) November 28, 2014
Dr. Diane Walder, one of the South Florida's top cosmetic dermatologists, announced the addition of Dr. Bridgit Nolan to her practice as a cosmetic dermatologist. Dr. Nolan joins the practice after having completed her dermatology residency at the University of Miami Miller School of Medicine.
Dr. Walder invited Dr. Nolan to join her practice because of her superior training in medicine, surgery and cosmetic dermatology. Not only does Dr. Nolan strive to provide the utmost standard of care for her patients, but she also recognizes the uniqueness of each client, and as a result, creates a tailored experience designed to meet the specific needs of her patients.
Originally from Niskayuna, New York, Dr. Nolan is a summa cum laude graduate of Cornell University where she was elected to the Phi Beta Kappa Society. She also graduated among the top of her class from SUNY Upstate Medical University and was inducted into the Alpha Omega Alpha Medical Honor Society. Dr. Nolan received the Pathology award while in medical school and was invited into the Association of Pathology Chairs Honor Society.
In addition to her impressive educational background, Dr. Nolan has participated in numerous research studies on such topics as chronic wounds, ultraviolet tanning behavior and phototherapy. She has also gained national attention for her expertise in cosmetic dermatology, as she has published articles in the Archives of Dermatology, and Photodermatology, Photoimmunology & Photomedicine.
Dr. Nolan is committed to bettering her community. Not only does she volunteer her time in helping provide healthcare to those who do not have access to it, but she volunteers in promoting sun safety and skin cancer awareness. She is also active in providing screenings for skin cancer.
Dr. Walder is the owner of Diane Walder Dermatology in Miami and is certified by The American Board of Dermatology. She is also a Fellow of The American Academy of Dermatology, and a member of such prestigious organizations as The American Medical Association, The American Society of Dermatological Surgery, The Florida Society of Dermatology and The Miami Dermatologic Society. Dr. Walder is a summa cum laude graduate of William Paterson University and earned her medical degree from Rutgers Medical School.
Her impeccable reputation has earned her an impressive list of patients that include athletes, entertainers, industry leaders and heads of state. Numerous national and local media outlets have featured Dr. Walder's expertise. She has been featured in such popular publications as Cosmopolitan, Vogue, Glamour, Allure and W. Additionally, Dr. Walder consults with some of the top pharmaceutical companies that are actively involved in developing treatments for dermatological and aesthetic conditions.
For more information about Dr. Walder and Dr. Nolan, please visit http://www.dianewaldermd.com.
Diane Walder, MD
1111 Kane Concourse Suite 100
Bay Harbor Islands FL
305-866-2177
33154