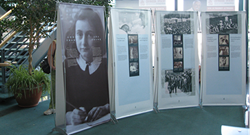 New York, NY (PRWEB) November 30, 2014
This spring marks the 70th Anniversary of the end of World War II in Europe, the liberation of the Nazi death camps, and the death of Anne Frank. As part of a special program to commemorate these historic moments, The Anne Frank Center USA - which was founded by the young writer's father to honor and preserve her legacy - will host a variety of traveling exhibitions on Anne's life in 2015, beginning with two exhibits in January.
The Center's signature exhibit will open on January 14 at the Oregon Jewish Museum and Center for Holocaust Education in Portland, Oregon. Entitled, "Anne Frank: A History for Today," the exhibit presents Anne's life within the context of the world around her, specifically the events leading to the rise of the Nazis and their brutal reign. Juxtaposing photographs of the Frank family with images of the history around them to show just how much persecuted people are affected by political decisions and the actions of individuals in both bad ways and good. The show also encourages visitors to examine the role of discrimination in their own lives, as well as their own attitudes toward others.
The exhibit will be on view from January 15, 2015-April 14, 2015. There will be an opening reception on January 14 from 5:30-7:30, as well as a lunch on January 13, featuring Hilary Eddy Stipelman, Director of Outreach and Education at The Anne Frank Center USA, and Steve Wasserstom, Moe and Izetta Tonkon Professor of Judaic Studies and Humanities at Reed College. For more information, please visit: http://www.ojmche.org/experience/special-events
Another exhibit, "Reading & Writing with Anne Frank," will open on January 12, 2015 at the Burlington County Library in Westampton, NJ. The show focuses on Anne Frank as a writer, helping communities and students in particular to analyze how she used her craft to shape such a personal and historic narrative. Visitors are also encouraged to do their own writing using Anne's diary and short stories as examples.
For information on these and other on-going exhibits, including current ones in Ohio and South Carolina, please visit The Anne Frank Center USA's website at: http://annefrank.com/traveling/