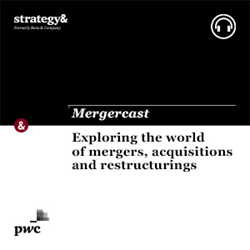 We have certainly seen a lot of M&A in this space and we expect that to continue in the future.
New York, NY (PRWEB) December 02, 2014
The food sector remains ripe for M&A, as shifting industry dynamics and an attractive financing backdrop push companies to seek alternatives to organic growth.
"We are seeing four specific drivers of this recent industry activity. First of all, we're seeing an increased investor, or shareholder, activism to quickly maximize shareholder value," Akshat Dubey, a Principal at Strategy&, said recently on the Mergercast by Strategy& podcast.
The second driver, he said, is an increasing desire to build product portfolios that are consistent with the companies' areas of expertise, or capabilities, rather than simply chasing scale. Third, "international companies with strong cash positions are buying U.S. companies for their brands, capabilities and access to market. Recently we have seen companies from Brazil, China and Japan all being active in the marketplace." A conducive financing environment is the fourth driver.
Akshat Dubey and PwC Managing Director Joe Nuzzolo provide a detailed analysis of M&A in the food sector in Episode 48 of Mergercast by Strategy&. During the past 5 years, 650 food industry transactions for which terms were disclosed totaled $340 billion in value, including whole company acquisitions, portfolio sales and divestitures.
"The M&A market has become more and more attractive for a number of reasons. We've seen strong share price performance and we're at very strong equity valuations, which gives large public companies a currency for acquisition. And couple that with a historically low interest rate environment and cheap debt financing. The money is there to support an M&A strategy," Nuzzolo explained.
Industry factors putting pressure on the food industry to consolidate include:

Commodity input prices have seen an average annual increase of 15% over the past decade while output prices have only risen 4-5%, resulting in a margin squeeze for many companies.
Consumption levels are still not back to pre-recession rates, while the rate of growth for food companies has slowed in many developed markets.
Consumer choices are evolving, as they seek specific brands, make more frequent grocery trips for smaller portions and become far more health conscious.
Because of this, small brands are now able to compete more effectively with larger companies by establishing niches.
A trend towards category domination has triggered several divestitures.
"The food industry as a whole has struggled to maintain growth and profitability and that has driven consolidation. Companies are looking at ways to better align their portfolios with their capabilities, which is also feeding M&A. We have certainly seen a lot of M&A in this space and we expect that to continue in the future," Dubey said.
About Mergercast by Strategy&
Mergercast by Strategy& is a podcast series exploring the world of mergers, acquisitions and restructurings. Episode No. 48, "Food Industry M&A," has a run time of 19 minutes, 59 seconds. Listeners can play the podcast on its homepage (http://www.strategyand.pwc.com/mergercast) or subscribe via RSS feed, e-mail or the iTunes store.
About Strategy&
Strategy& is a global team of practical strategists committed to helping you seize essential advantage. We do that by working alongside you to solve your toughest problems and helping you capture your greatest opportunities. We bring 100 years of strategy consulting experience and the unrivaled industry and functional capabilities of the PwC network to the task. We are a member of the PwC network of firms in 157 countries with more than 195,000 people committed to delivering quality in assurance, tax, and advisory services.