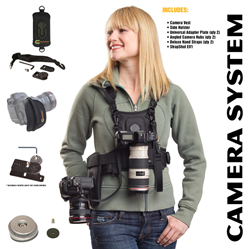 Austin, Texas (PRWEB) November 27, 2014
Cotton Carrier, the camera accessory line known for revolutionizing the way in which photographers carry their cameras, has announced the newest product addition to their collection, the StrapShot EV1. The EV1 is the enhanced version of Cotton Carrier's original StrapShot, a design specifically developed for DSLR cameras. The re-engineered EV1 will now fit any camera big or small, especially the new mirrorless style!
"Carrying around a camera can be a royal pain, so we invented the StrapShot EV1. Unlike straps and slings that allow your camera to swing and bounce around, the StrapShot EV1 is a small, super durable mounting system that locks your compact shooter or full-sized DSLR securely against your body," explained Brook Parker, COO of Cotton Carrier.
The ideal gift for any photographer, this rugged camera accessory allows the user to go anywhere and do anything with their camera safely by their side. Unlike other solutions, the StrapShot EV1 only requires one hand so its users will never miss an important shot again!
The StrapShot EV1 is now available for pre-order on http://www.prelaunch.com and is scheduled to ship on December 5th of this year, just in time for the holidays. Reserve yours at the special pre-order price of $39 (regularly priced at $79) directly here: https://www.prelaunch.com/brands/cotton-carrier.
About Cotton Carrier:
Cotton Carrier's camera accessory product line was originally designed to relieve neck and shoulder pain while keeping the photographer's camera secure. Founder, Andy Cotton, released the first Cotton Carrier product in the summer of 2009, creating a superior solution to the traditional neck strap. Today, Cotton Carrier has become a favored choice for both amateur and professional photographers alike.
For product images, review unit requests and further information, please contact:
Beth Newill | 512.631.3665 ext. 701 | bethn(at)prelaunch(dot)com