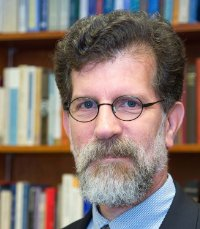 I'll reflect on my path to interreligious dialogue and its increasingly central place in my scholarship and teaching.
Shreveport, LA (PRWEB) November 25, 2014
Dr. Peter A. Huff, T.L. James Eminent Scholars Endowed Chair of Religion will present his final community lecture, "Interfaith Dialogue in the Age of ISIS and Atheism" on Tuesday, December 2, at 7 p.m. in Centenary College's Kilpatrick Auditorium.
"In the lecture, I'll reflect on my path to interreligious dialogue and its increasingly central place in my scholarship and teaching," said Huff. "Dr. Webb Pomeroy's 1975 inaugural T. L. James lecture at Centenary, 'Biblical Faith in a Living Universe,' and the occasion of the 50th anniversary of Vatican II (1962-65) will serve as points of departure for my remarks. They will help us gauge the truly dramatic transformation of the religious landscape that has largely defined our experience in the last few decades."
Huff has been on faculty at Centenary since 2001 and served as chair of the department of religious studies from 2002-2007. He joined Centenary after a six-year term at Saint Anselm College in New Hampshire and a professorship at the University of Puget Sound in Washington. Prior to his tenure, Huff received his bachelor's degree in history and religion from Mercer University in Atlanta in 1980 and went on to earn a master of divinity at Southern Baptist Theological Seminary in 1984. Huff completed his graduate study in religious studies from Indiana University in 1987 and received his Ph.D. in historical theology from Saint Louis University in 1994.
A Catholic theologian and historian, Huff has authored material on the history of Christian thought, religious pluralism in the United States, and dialogue among world religions. His books include Knowledge and Belief in America: Enlightenment Traditions and Modern Religious Thought, co-edited with William M. Shea, (Cambridge University Press, 1995); Allen Tate and the Catholic Revival: Trace of the Fugitive Gods, (Paulist Press, 1996); and What Are They Saying About Fundamentalisms? (Paulist Press, forthcoming). Huff is a self-described former Southern Baptist who is active in ecumenical and interfaith affairs.
"(In my lecture, I will) use ISIS and atheism as signs of especially new and unforeseen challenges to the work of dialogue," said Huff. "The emergence of yet new strains of fundamentalism and the simultaneous and sudden rise of the 'nones,' citizens of the secular city for whom non-religion is the norm, place the apostolate of dialogue in a situation unimaginable 40 or 50 years ago. Most of my Centenary tenure has revolved around these issues, and I will continue to build on my Centenary experience in the new chapter currently opening in my career."
For more information or to RSVP to Huff's final lecture, contact Assistant Director of Christian Leadership Maegan Daigle at sdaigle(at)centenary(dot)edu or 318.869.5112.