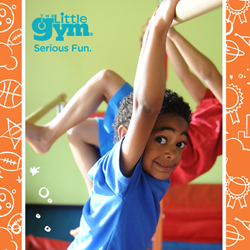 (PRWEB) November 27, 2014
At The Little Gym, we know that being active provides serious benefits. So it came as no surprise when a recent study confirmed that regular physical activity can improve a child's academic success. The Journal of Pediatrics found that "Promoting physical activity that involves aerobic exercise and motor tasks during the school years may be important not only for health, but also for successful academic development." The study monitored two groups of children; those that were engaging in regular physical activity in afterschool programs, and those who were not. The results showed that children who were physically active displayed substantial improvements in testing scores, memory, focus, and problem-solving skills.
How can you encourage your child to get and stay active? Show children that exercise is fun! Go for nightly walks, bike rides, or have a family dance party. Get children involved in age appropriate exercises and group activities like The Little Gym. The benefits of being active will help improve your child's academic performance, social skills, health, and much more. Get up and get moving today!
To learn more about the study, click here.