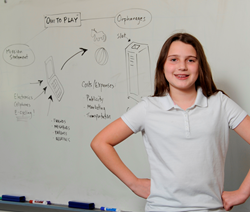 My favorite part of Okay to Play is being able to make an impact. This experience has opened my eyes to a whole world of differences in people's lives.
Owings Mills, Maryland (PRWEB) November 27, 2014
Vasiliki "Vasi" Argeroplos, Garrison Forest School sophomore, matched passion with purpose at an early age. When she was in the 6th grade, she and her older brother Niko founded the Okay to Play Foundation. The inspiration came when she was watching a TV documentary on children who were orphaned or in foster care and was struck by how few toys the children had. She and Niko talked about how they could help, and he suggested helping the environment at the same time.
Their concept is simple: They collect used cell phones and electronics at collection drives at their schools and church, and encourage relatives to collect as well. They sell the electronics to a recycling company and use the proceeds to purchase new toys for children in orphanages and foster homes. To date, Vasi and Niko have saved 1,200 electronics from landfills and raised $30,000.
Their distribution sites initially focused on Maryland, Ohio and New York (where they have family). Today, Okay to Play is helping children worldwide. The foundation has given toys to an all-girl's orphanage in Lamia, Greece and an orphanage in Afghanistan. In December 2012, Okay to Play gave new Xboxes to the Johns Hopkins Hospital for children to play while in the hospital.
This year, during Thanksgiving week, Vasi delivered games and toys to the Children's Guild in Baltimore for the Guild's all-girl's home. In December, an all-boys' foster home in Baltimore will receive Xboxes and a game table from Okay to Play.
Creating a bona fide foundation from an idea was not daunting to Vasi. Her parents are entrepreneurs, and she used the financial literacy skills she's learned at Garrison Forest and its James Center, which brings together the school's financial literacy, hands-on learning, service outreach and STEM programs. In 7th grade, Vasi was recognized by Junior Achievement of Central Maryland for her social entrepreneurship and featured in their video (view the video at http://www.okaytoplay.org.)
Vasi is also very interested in other cultures. She takes Mandarin at Garrison Forest; last year, she won an Encouragement Award in the first Confucius Institute Cup International Competition for Chinese-Language Learners for an essay she wrote in Mandarin.
She and Niko have big plans to Okay to Play. They are working on expanding collections and distribution sites throughout the United States and continue to secure corporate sponsors. They hope to raise $100,000 dollars from recycling proceeds to build a playground or a play area for an orphanage or foster home in the Baltimore region. "I am trying to make an impact locally; however, I help whoever is in need," Vasi explains. "My favorite part of this process is being able to make an impact. This experience has opened my eyes to a whole world of differences in people's lives. I feel fortunate because I did enjoy my childhood and am still enjoying it and would love to be able to bring joy to others. Running this nonprofit has taught me that I am a compassionate and assertive leader. It's helped to shape my college plans because it has allowed me to see what career path I would like to pursue, which is a business degree that involves helping others."
Founded in 1910, Garrison Forest School, an independent, girls' K-12 school with a boarding program and a coed preschool, empowers students to realize their full potential and live lives of purpose. In 2009, Garrison Forest was recognized as a Confucius Classroom, the first among Maryland's independent schools. Since 2005, Garrison Forest and Johns Hopkins University have partnered to provide GFS girls with unique, in-depth research experiences in STEM, public health and the humanities in Hopkins' lab and programs through the Women in Science and Engineering (WISE) program. WISE and other experiential programs are coordinated through the GFS James Center.