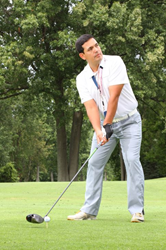 Our goal is for students to build a relationship with a golf coach who not only provides game-changing golf lessons, but also encourages their success and genuinely cares about their progress.
North Olmsted, OH (PRWEB) December 09, 2014
Nick Paez, a golf instructor at GolfTEC in North Olmsted, Ohio, was named one of Golf Digest's "Best Young Teachers in America" in the November 2014 edition of the magazine. The honor recognizes the extraordinary accomplishments of America's Top 40 golf instructors under the age of forty. Golf Digest is the most widely-read golf publication in the world and considered the authority on how, what and where to play.
"These talented teachers represent the future of golf," according to Golf Digest. The selection process was not an easy one. Editors chose the finalists from a long list of nationally ranked teachers, all 41 sections of the PGA, and anyone else they thought might be a good candidate.
"Nick is a model for what we expect from our certified personal coaches," says Joe Assell, Co-Founder and President of GolfTEC, an internationally franchised chain of golf instruction facilities that teaches about 25% of all golf lessons in the United States and recently crossed over the 5 million lessons taught. There are now six GolfTEC locations in Northeast Ohio. "We believe that learning the game of golf should be just as much fun as playing the game."
Nick's story is unique. Born in Westpark, Ohio, a suburb of Cleveland, Nick played football at St. Ignatius High School and was recruited to be a placekicker at Bowling Green State University. During his freshman year he was introduced to and fell in love with the game of golf.
"Starting late, I had to approach the game differently to catch up," recalls Paez. "As an adult first taking up the game, I saw the emotional approach to the game as being just important as the technique and shot-making aspects."
Ignacio Covarrubias, GolfTEC Cleveland Business Manager, says, "Nick is the ideal teacher. He is very personable, understands his students' needs very well, and is very comprehensive on his teaching approach. He truly connects with each and every one of his students."
Paez's teaching method has paid big dividends for his young students from the Greater Cleveland area.
Beau Titsworth was Ohio High School Boys' State Champion at St. Ignatius High School. Now starting his third year at Oklahoma University, he was named to the Academic All-Big 12 First Team as a sophomore and finished tied for fifth in the Big Twelve Championship.
Jessica Porvasnik started working with Nick while attending Highland High School in Medina. She won the Ohio High School Girls' State Title in 2012. As a freshman at The Ohio State University she was named Big Ten Player of the Year, won the Big Ten Championship, was All-American Honorable Mention, and qualified for the US Women's Amateur Open where she made it to the sweet 16 and qualified for the 2014 US Women's Open at Pinehurst. These accomplishments placed her as one of the best freshmen in The Ohio State University school history!
Niki Schroeder, currently a senior at Avon Lake High School with a commitment to The Ohio State University, capped her impressive high school career by winning the 2014 Ohio Girls' State Title. Niki finished her AJGA (American Junior Golf Association) with 11 events played, winning 2 tournaments and finishing near the top in seven others. She was also named to the prestigious Rolex Junior All-American Team, made up of the best players in America.
After years as a PGA teaching pro in Ohio and Florida, Nick started working at GolfTEC in 2007. Now just 38 years old, he resides in Rocky River with his wife and four children.
"We are obviously very proud to have Nick as a member of the GolfTEC team," says Assell. "Our goal is for students to build a relationship with a golf coach who not only provides game-changing golf lessons, but also encourages their success and genuinely cares about their progress."
According to Golf Digest, Nick Paez has more than succeeded at making GolfTEC's goal a reality.
For people interested in improving their golf game, call GolfTEC of Northeast Ohio at 440-348-1757 or go to golftec.com.
About GolfTEC
GolfTEC is a chain of golf retail stores that provides golf lessons, golf instruction and club fitting to players of all ages and abilities. They are the world leader in golf instruction with over 5 million golf lessons given and a 95% success rate. Created by Joe Assell and Mike Clinton in 1995, GolfTEC is headquartered in Denver, Colorado and has over 170 locations across the United States, Canada, and more recently, Japan, and Korea. The company teaches about 25% of golf lessons annually in the United States.