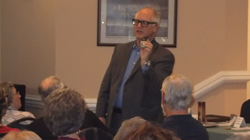 I'm glad I don't have that clutter any more.
(PRWEB) November 28, 2014
Most of the people attending a presentation by Ken Farmer of Farmer Auctions in Salem, Va. at Lake Prince Woods retirement community found out the "prized" possessions they had brought for appraisal had great sentimental value but wouldn't have made the cut to be on an "Antiques Roadshow" segment.
Farmer, well known for his expertise in decorative and folk art and his appearances on the PBS program over the past 20 years, talked about trends in buying and selling antiques. Broadly speaking the antiques market is down because the lifestyle of people in their 20s, 30s, and 40s doesn't include things like china, crystal, family furniture and other heirlooms that previous generations valued.
After the presentation Farmer appraised a number of items brought by those attending the program, including a 1953 electric guitar, a copy of George Washington's will, a military ball program signed by Bob Hope, a Native American-made rug, and several pieces of china.
Several of the Lake Prince Woods residents in attendance jokingly said they had given away their most valuable items when they downsized to move to their current residence. "I'm glad I don't have all that clutter anymore," one person noted.
The homes at Lake Prince Woods have distinct floor plans designed with comfort and convenience in mind. Cottages, villas, and apartments offer generous space for active lifestyles.
Lake Prince Woods is a residential retirement community offering an array of lifestyle choices. Located in Suffolk, Virginia, the community is nestled among 172 lovely wooded acres bordering Lake Prince. As a continuing care retirement community, Lake Prince Woods offers residential living, assisted living, memory care and skilled nursing care. To learn more, visit http://www.lakeprincewoods.org.