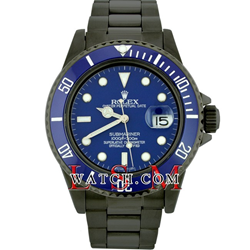 Los Angeles, California (PRWEB) November 25, 2014
LSMWatch.com is the leader supplier of authentic luxury unworn PVD/DLC coated Rolex timepieces. These incredible watches are offered at unbelievable discounts while being the lowest price on the internet. With knowledgeable experts and amazing customer service, LSMWatch.com is undeniably the best place to purchase the right watch. Their custom curated creation of unworn PVD Rolex watches are coated during the PVD (Physical Vapor Deposition) process to give these stainless steel watches an incredibly scratch-resistant black coating. The PVD process is a process that completely transforms stainless steel watches into a uniquely masculine look. The seamlessly coated watch rotates several axes at equal speed to create the uniformity throughout. The DLC (Diamond Like Carbon) coating is used to create a hard surface, which protects the watch from oxidation and other substances. The strength of this coating provides a coating that will never peel or fade. LSMWatch.com is proud to offer their customers a high quality and unique collection of PVD/DLC Rolex watches.
With a vast selection of pre-owned watches, LSMWatch.com is determined to providing their customers with watch they've been dreaming of. Purchasing a pre-owned watched from LSMWatch.com guarantees the highest standard of authenticity and quality. A pre-owned Rolex watch holds its value with time, due to, their timeless symbol of luxury. Competitively priced and high quality pre-owned watches are ideal when looking for a luxury time-piece at such an amazing price.
LSMWatch.com offers a Price Match Guarantee to ensure that their customers are being offered the most competitive price and that they can have a great experience. With their complimentary 3 year ironclad Warranty, LSMWatch.com wants their customers to feel confident when purchasing a watch. With such a large variety of brands to choose from, their experts will assist customers in selecting the right watch.
About LSMWatch.com:
LSMWatch.com is a supplier of luxury timepieces, shipping watches worldwide while providing a superior level of customer service. We have a diverse and large inventory of elegant watches available for purchase consisting of a variety of brands, models, and materials. LSMWatch.com has the largest, most diverse collection of luxury swiss made watches and offers unparalleled customer service, ensuring you get the right watch for you, and enjoy the experience of buying it from us. Our Price Match Guarantee ensures that you are purchasing your watch at absolute best price. Our knowledgeable experts will help you to select the right watch from the various brands we carry, including: Audemars Piguet, Breitling, Cartier, Chanel, Chopard, IWC, Jaeger LeCoultre, MonteBlanc, Omega, Patek Phillipe, Rolex, TAG Heuer, Ulysse Nardin, and many more.