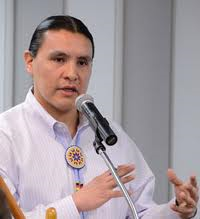 "The meetings in early December is another incremental step in the historic movement to fully vest the nine tribes with full sovereignty when it comes to making decision about its children — the future of our great people."
Rapid City, SD (PRWEB) December 01, 2014
The nine Tribal Chairmen, who are scheduled to meet with President Barack Obama at the Capital Hilton Hotel as part of the 2014 Tribal Nations Conference, will subsequently join the Lakota People's Law Project and consultants, A Positive Tomorrow, in a series of meetings with high ranking federal officials.
The purpose of these meetings is to explore how the United States Department of Interior, the Department of Justice and the Department of Health and Human Services can bring their resources to bear on the child welfare crisis that Lakota People's Law Project witnesses on a daily basis.
"The meetings in early December are another step in the historic movement to vest the nine tribes with full sovereignty when it comes to making decisions about our children — the future of our great people," said Oglala President Brian Brewer. "We are fed up with the state of South Dakota using our children as cash crops to get federal dollars to enrich their bureaucracy at the expense of our children. Our children are sacred and this must stop."
According to the most recent "Child Welfare Outcomes Report to Congress" published on Sept. 19, 2014, while Indian children comprise less than 13 percent of South Dakota's child population, they represent more than 50 percent of the foster care population. Furthermore, only 48 percent of Indian children are reunified with their family or tribe, according to the report. The rate of reunification is considerably lower than that of white and black children in South Dakota, the report states.
"The latest report effectively demonstrates the state of South Dakota continues to flagrantly violate the Indian Child Welfare Act of 1978," said Lakota People's Law Project Executive Director Sara Nelson.
ICWA is a piece of federal legislation designed to prevent the erosion of cultural values, heritage and language among Indian tribes by reducing the rate at which state child welfare departments seize children and adopt them out to non-Indian families.
"The National Public Radio report that shed light on the cultural bias in South Dakota also effectively demonstrated that the state has a perverse financial incentive to seize Indian children, to place them in state run foster care and adopt them out," said Crow Creek Chairwoman Roxanne Sazue. "Due to the size of federal reimbursement dollars paid to the state for 'helping' Indian children relative to other races, the state can recoup large dollar amounts on the backs of our disenfranchised children. This practice is reprehensible."
The Lakota People's Law Project and the Tribes, with the help of A Positive Tomorrow, have not only worked tirelessly to uncover what LPLP believes are deep-seated structural problems, but have recently moved toward a solution — the federal government should discontinue funding tribes via state apparatus and instead fund the tribes directly.
"The people best situated to care for our children are our own families and extended family network, which we call Tiospaye," Lakota People's Law Project Attorney Chase Iron Eyes said.
Implementation of the solution has already begun with the Department of Health and Human Services awarding planning grants to three of the nine tribes — Rosebud Sioux Tribe in 2013 and Oglala Sioux Tribe and Standing Rock Sioux Tribe this year. The federal grants allow the tribes to build tribal-run family services programs over a two year period.
"While we celebrate the steps taken by the federal government to empower tribes in South Dakota, it is not enough," Standing Rock Chairman David Archambault II said. "Seven of the nine tribes sought funding this year and to award it to only two means that other tribes cannot create their programs simultaneously. This interferes with efficiency, collaboration, cost savings and the sharing of training and services."
The Attorney General's Advisory Committee released a report this month entitled "Ending Violence so Children Can Thrive" on Nov. 15, 2014 that essentially supports solutions championed by the Lakota People's Law Project since 2008.
The report recommends a complete overhaul of how the federal government funds Indian tribes, including dismantling the competitive grant system and providing mandatory, not discretionary funding, for all tribal child service programs.
The report further advocates for the federal government to cease funding tribes via allocations to state governments and instead fund tribal services directly.
"Congress shall authorize all federal agencies…to enter into self-determination and self-governance compacts with tribes to ensure all tribal system funding, including both justice and child welfare, is subject to tribal management," the report states.
The report is evidence that while the problems on reservations persist due to what LPLP has identified as a continued presence of structural injustice, many people realize that real, practical and positive structural solutions exist.
"There is a growing awareness," Director of A Positive Tomorrow Yvonne Ito said. "But there is much hard work that needs to be done to ensure these solutions are implemented effectively. I am looking forward to working with the South Dakota Sioux Tribes on this landmark mission."
The South Dakota Sioux Chairman and their consultants are available for interviews on December 2,3 & 4 at the Capital Hilton Hotel in Washington, D.C. The Chairman are painfully aware of the suffering endured by their tribal families in the South Dakota system.
The Lakota People's Law Project has been partnering with tribes and leaders in South Dakota since 2005 from its offices in Rapid City, SD and Santa Cruz, CA. LPLP's activities have included funding and supporting Native experts to provide technical assistance to the tribes on family and child welfare issues. The project combines public interest law, investigation, research, education, and organizing into a unique model for advocacy and social reform.
The Lakota People's Law Project is sponsored by the non-profit Romero Institute based in Santa Cruz, California. The Institute is named after slain human rights advocate Archbishop Oscar Romero of El Salvador. The Institute seeks to identify and dismantle structural sources of injustice and threats to the survival of our human family.