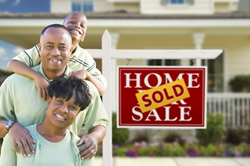 now is the time to borrow the money from mom and dad and connect with a real estate agent.
Chicago, IL (PRWEB) November 26, 2014
The Federal Savings Bank, a Midwest based lender knows that current housing market conditions make it a good time for first-time home buyers to seek out their real estate dream, yet the lender knows something may be holding them back.
A survey from the National Association of Realtors released November 3rd found the number of first-time home buyers participating in the market is the lowest it's been in three decades. The amount of first-time purchasers declined 5 percent compared to this time last year to hit 33 percent. The long-term average is four in 10 home buyers are purchasing their first houses.
Why the drop?
It may not be the housing market that's responsible for a dip in first-time purchasers. Many younger Americans are bogged down with student loan debt and high rent prices, which makes it difficult to save for a down payment, the NAR pointed out.
A majority of buyers finance their purchases, and the NAR survey found first-time homeowners use many sources, such as gifts from family and friends, to buy a home. Some even sold stocks and bonds or took money from their 401(k)s to finance their homes.
Now is the time to buy
While it's understandable first-time home buyers worry about financing their purchases, The Federal Savings Bank thinks now is the time to borrow the money from mom and dad and connect with a real estate agent. The market is stable, inventory is growing and mortgage rates remain at historical lows.
Also, the latest news from the U.S. Department of Housing and Urban Development and Department of Commerce illustrates the growth the housing market has experienced over the past year, which is another signal that now is a good time to buy.
Housing inventory will likely continue to improve because permits rose in October. Building permits for privately owned homes rose at a seasonally adjusted rate of 4.8 percent from September to October, according to the joint news release. The 1.08 million permits authorized last month were 1.2 percent above the amount in October 2013. Single-family home authorizations in October hit 640,000, which is 1.4 percent higher than the amount of permits in September.
Housing starts decreased between September and October but remained above last year's levels. For privately owned homes, the rate of housing starts declined 2.8 percent month over month at a seasonally adjusted rate. However, compared to October 2013, the number of housing starts jumped 7.8 percent, illustrating the improvement the market has made in the last year. Single-family home housing starts rose 4.2 percent from September to October.
Six-year high
The number of housing permits for single-family homes in October reached a six-year high, according to Bloomberg on November 19th. This is important news for those who may have been on the fence regarding whether the economy was normalizing. The rise in new home construction is a sign the housing marketing continues to improve as it moves into 2015.
The numbers provided by the government release illustrate that more homes were under construction in October than there have been at any moment since 2008, Bloomberg reported. The amount of new homes on the market and those that will be finished soon may be exciting for buyers because now is a great time to break into the market due to affordable prices and historically low mortgage rates.
First-time home buyers should contact The Federal Savings Bank, a veteran owned bank, to learn more about low mortgage rates and getting a pre-approval.