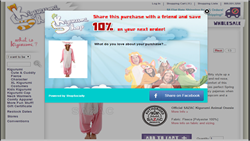 ShopSocially's referral marketing solution is helping us leverage the passion of our customers to increase our brand's reach and bring in more customers. - Atsushi Miyamoto, Business Owner at Kigurumi-Shop.com
Mountain View, CA (PRWEB) November 26, 2014
Leading seller of Japanese kigurumi onesies and pajama, Kigurumi-Shop.com is using ShopSocially to run a high-impact customer referral program on its website. ShopSocially's referral marketing solution is resulting in generation of numerous referrals for Kigurumi-Shop.com. Social traffic originating from these referrals is converting at a rate as high as 44.35%.
"Fun and cozy kigurumi make perfect attire for costume parties with friends and are an intuitive product category to be shared via social media. ShopSocially's tools are enabling us to leverage this to generate numerous social referrals." said Atsushi Miyamoto, Business Owner at Kigurumi-Shop.com. "ShopSocially's referral marketing solution is helping us leverage the passion of our customers to increase our brand's reach and bring in more customers."
Kigurumi-Shop.com is adopting below two referral strategies from ShopSocially to generate customer referrals on its site:
1. Social Sharing of Purchases: In any purchase cycle, customers are most happy when they have completed the buying process. Since they are delighted with their purchase, they are most likely to share it with their friends. ShopSocially's Share-a-Purchase app leverages this customer delight to generate highly impactful social referrals. For Kigurumi-Shop.com, this strategy is generating referral traffic which is converting at a high rate of 44.35% on its site.
2. Viral Email Acquisition: Traditional email acquisition methods work in silos and do not extend benefit beyond email marketing. By replacing traditional email acquisition with Facebook Connect, marketers can earn a double benefit: acquire a pre-verified email address of the user (which is part of rich social profile that user shares during Facebook Connect), and also generate a social recommendation for the brand through a Facebook post. ShopSocially's Social Connect app is enabling Kigurumi-Shop.com to implement this strategy. Social traffic generated via this referral strategy is converting on Kirugumi-Shop.com site at a rate of 21.62%.
Referral marketing strategies are evolving to incorporate the growing importance of social media in online retail. Customer referrals are one of the most credible purchase influencers for online retail. When these are spread through the viral channel of social media, their impact increases manifold and result in noteworthy uplift in conversions and revenue. Kigurumi-Shop.com has successfully adopted ShopSocially's social referral strategies to significantly enhance conversion rate on their site.
"Social media offers seemingly unlimited reach to every customer's opinion. Persuasive powers of social referrals are non-trivial in nature and are increasingly becoming a key consideration for a user to convert into a customer" commented Jai Rawat, CEO of ShopSocially, "Marketers should incorporate social referral strategies to get maximum returns for their referral marketing efforts. Success of Kigurumi-Shop.com site is a clear testimony for this."
About Kigurumi-Shop.com:
Kigurumi-Shop.com is the leading online retailer for authentic kigurumi clothes for costume parties and leisure wear. Kigurumi-Shop.com is the exclusive North and South American distributor for SAZAC, Japan's most respected and successful kigurumi manufacturer. The quality of SAZAC kigurumi on sale at Kigurumi-Shop.com is unmatched by fake and cheap imitations, making it the most popular online destination for fun, cozy kigurumi attire.
About ShopSocially
ShopSocially is a one-stop social, referral and retention solution for marketers. Leading brands like Crabtree & Evelyn, CafePress, Zipcar, Ulta, Beretta etc. are using ShopSocially platform to enable referral marketing, visual commerce, customer loyalty, social login, social gamification and other such programs on their site.
ShopSocially has been consistently driving word-of-mouth promotions via social for 1000s of brands and delivering positive social ROI for their social media efforts.
ShopSocially has won several awards and has also been featured by Facebook in a Social Commerce case study. Launched in Oct 2010, ShopSocially is a privately held company in Mountain View, CA. For contact information, please visit http://shopsocially.com/platform/request-a-demo.html.