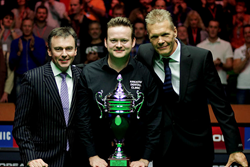 "I'd like to say a thank you to our sponsor this week, Kreativ Dental. These events don't happen without good sponsors, so a big thanks to them."
(PRWEB UK) 26 November 2014
Shaun Murphy won the Kreativ Dental Ruhr Open in Germany, making a maximum 147 break in a 4-0 victory over Robert Milkins in the final.
Murphy made it back-to-back European Tour titles having won last month's Bulgarian Open and the world number seven has now won four titles in 2014.
The highlight of his emphatic final win over Milkins in Mulheim came in the second frame as he secured his third 147 of the year. He becomes the first player to make three maximums in a calendar year, having made one at the Championship League in January and another at the Gdynia Open in February.
Former World Champion Murphy, who goes into this week's Coral UK Championship in top form, said: "I had four or five chances at maximums before the final. When I got the chance tonight I was under so much pressure. I potted a very difficult 15th black and finished perfect on the yellow, then I was just concentrating on every ball.
"I had a few barren years where I started to lose a bit of faith in my game. I was looking for answers elsewhere and I even thought about jacking it in. I'm really pleased that I stuck with it and got through that bad patch, and I'm so happy to have won another trophy.
"I'd like to say a thank you to our sponsor this week, Kreativ Dental who have looked after us. They have been great sponsors. These events don't happen without good sponsors, so a big thanks to them."
Attila Knott, owner of the title sponsor Kreativ Dental Clinic said, "It was a pleasure to present the trophy to Shaun he was a worthy winner in what has been a great few days of snooker here in Mulheim.
"Kreativ Dental will review what has been a fascinating tournament and we look forward to sponsoring more European Tours events, as well the German Masters in 2015."
Manchester-based 32-year Murphy collected 25,000 Euros for winning the tournament, plus a £1,000 bonus for the maximum.