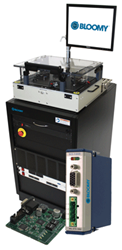 WINDSOR, Conn. (PRWEB) December 01, 2014
Bloomy Controls Inc. (Bloomy) has earned ISO 9001:2008 certification for its quality management system that guides the company's design, manufacture and provision of services for automated test, data acquisition and control systems. Bloomy's three facilities in Windsor, Conn.; Marlborough, Mass.; and Fair Lawn, N.J. earned this certification following an independent audit by ANAB-accredited American Systems Registrar.
"ISO 9001:2008 registration signifies Bloomy's ability to consistently deliver products and services that meet customer requirements and our dedication to continuously improve quality," says Robert Cornwell, Bloomy vice president of operations, who led the company's quality initiative with Steven Hoenig, Bloomy New Jersey unit leader. Cornwell continues, "We have well-documented processes and the controls necessary to ensure they are followed. More importantly, we have implemented a culture of continuous improvement that will allow us to maintain our reputation for quality as the company grows."
"Over the years, our quality management system has passed rigorous audits from customers in highly-regulated industries, such as aerospace, electric vehicles, and medical devices," says Peter Blume, Bloomy founder and president. "The ISO 9001:2008 certificate makes it easier for customers to partner with Bloomy and receive high-quality automated test, data acquisition and control solutions."
About Bloomy
Bloomy enables high-tech manufacturers to transition new products from prototype to production by providing products, platforms and custom turnkey systems for automated test, data acquisition and control. Bloomy products are used in electronics functional test; advanced battery simulation and test; avionics and aerospace systems test; medical device testing, and more applications. Bloomy is a National Instruments (NI) top-tier Platinum Alliance Partner and has the most NI Certified Architects of any company in the world. For more information, visit http://www.bloomy.com.
"Bloomy" is a trademark of Bloomy Controls Inc.
"National Instruments" and "NI" are trademarks of National Instruments.