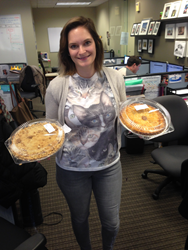 ATLANTA, GEORGIA (PRWEB) November 26, 2014
The Atlanta Pie Patrol plans to collect about 100 pies to the Metro Atlanta Salvation Army this week for the organization's annual Thanksgiving dinner, many of which will be donated by the team from automotive marketing firm Force Marketing.
The Atlanta Pie Patrol was founded in 2012 by Force Marketing Production and Compliance Specialist Keri Geier, whose cousin had started a local Pie Patrol in Anniston, Alabama. Each year, the group collects homemade and store-bought pies to donate to the Salvation Army over the holidays. The pies are served as dessert for the displaced, homeless and less fortunate Atlantans who attend the Salvation Army's Thanksgiving dinner.
The past two years, the group has been able to donate about 60 pies to the cause, and this year it has set its goal at 100 pies.
"I hear from people from all over who want to bake pies for us or to start Pie Patrols in their communities, and from businesses that want to be used as drop-off locations," said Geier. "It's incredible to see how generous people can be."
Now totaling more than 80 employees, the Force Marketing team is proud to help Geier and her organization with the cause.
"I always get Force involved, and they are the biggest contributors every year," said Geier. "Force Marketing accounts for more than half of the pies we donate, so I look to my coworkers for the most support, and they never let me down."
To learn more about the Atlanta Pie Patrol and how you can help, visit the organization's Facebook page at https://www.facebook.com/AtlantaPiePatrol/.
ABOUT FORCE MARKETING
Force Marketing is an automotive direct mail and digital marketing company headquartered in Atlanta, Ga. The company offers marketing services to an expansive client base throughout the U.S. and Canada. The company made Inc. magazine's 500|5000 list of the fastest-growing private companies in the U.S. in 2014 for the sixth consecutive year. More information about their auto dealership marketing services can be found online at http://www.forcemarketing.com.