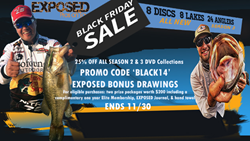 Yankton, South Dakota (PRWEB) November 27, 2014
Several site upgrades for members focus on the ever popular Exposed series, one of the most visited features currently at http://www.ProPatterns.com. Due to the growing library in the Exposed video vault, which currently features 72 videos, the Exposed video vault has been optimized with an engine that allows viewers to search the library using select criteria. When the fourth season of Exposed launches in early 2015, ProPatterns will also include Exposed Interviews LIVE, featuring the top anglers discussing all of the action and their experiences in real time.
In the past, the journal function at http://www.ProPatterns.com allowed anglers to document their experiences on the water, allowing them to click through and add critical details involving their catches. This function served not only as a means for anglers to systematically document their experiences on the water, but also provided a convenient means for others to search journals using those select criteria.
While many of those key features remain, ProPatterns has enhanced the platform to improve user interaction. ProPatterns Elite members will now be able to utilize simple interactive tools to build a powerful multimedia Member Profile page. Each Member Profile page will allow anglers the chance to shape their own brand and gain exposure through a series of web integrations.
In addition to anglers being able to upload profile pictures and biographical information, anglers will also have the opportunity to link to their own personal websites, Facebook pages, Twitter accounts and Youtube pages.
With this multimedia interface, anglers can post journal entries involving the specifics of their catches, run tweets relevant to their adventures, and document all the action with videos and photos. Once members build their own Member Profile page, posting and adding content only takes a few clicks. Navigation on Member Profile pages will operate with a user-friendly timeline feature, allowing ease of navigation.
Though some of these tools exist on other stand-alone platforms, http://www.ProPatterns.com is the only website with integrated tools like these, where knowledge and information can be exchanged mutually between both professional and amateur anglers. ProPatterns Elite Members have the chance to browse all Member Profile pages and follow other anglers with a click of the "Inspires Me" button. All of these upgrades to http://www.ProPatterns.com become available just in time for the holidays.
All of these new features come on a platform optimized for tablets, smartphones, and most other handheld devices. In the boat, on the water, or anywhere else a handheld electronic device can go, http://www.ProPatterns.com will be ready with the best in fishing education and entertainment.
In celebration of Thanksgiving, ProPatterns will be offering a special Black Friday promotion. Fans who visit the ProPatterns store through Nov. 30th will receive a 25% discount on Exposed Season 2 & 3 DVD collections with the promo code "Black14". Eligible purchases will be entered in a prize drawing. Two winners will receive prize packages worth over $200. The prize packages include a one year complimentary Elite membership to ProPatterns, and an Exposed journal and Exposed hand towel, perfect accessories for any fishing trip.
More About ProPatterns, Inc. and Exposed:
ProPatterns, Inc. is a leader of angling education by sharing professional fishing tips, industry information and member services online. In addition, ProPatterns offers prize filled competitions, sharing of information among peers, and connections to industry professionals and media through means available nowhere else.
Information is gathered from various sources and disseminated with members in a variety of ways. The Exposed video series, for example, gains all of its integrity from an alignment with the biggest names in the bass fishing industry including professionals who fish with BASS, FLW, and PAA. Cooperation from the anglers and their willingness to share is the catalyst for the growth of this series.