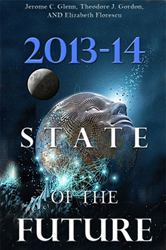 the best introduction—by far—to a broad range of major global issues and long-term remedies…because there is nothing like it
(PRWEB) November 27, 2014
"2013-14 State of the Future" shows that the world is improving better than most pessimists know, but future dangers are worse than most optimists indicate. "Strategically – and globally – comprehensive trend analysis is rare, and for this reason alone, the 2013-14 State of Future is important… absolutely worth the reader's time just in the assemblage of search data alone… many extremely insightful linkages… It is extremely valuable and encouraging… takes the reader much farther forward than most thinking, which is usually mired in outdated stereo-types posing as a reflection of current frameworks" writes the Defense & Foreign Affairs Policy journal.
"This is the best "State of the Future" we have ever published," says Jerome Glenn, CEO of The Millennium Project, "I believe it has more future-significant facts and insights ever assembled in one book in history."
According to Global Foresight Books editor, Michael Marien, about 1,000 "…well-informed English-language books on current affairs" are published per year. Of these only twelve are selected as book of the month. The 2013-14 State of the Future "…continues to be the best introduction—by far—to a broad range of major global issues and long-term remedies…because there is nothing like it," writes Marien in selecting it as the November Book of the Month.
Some other reviews: "…global intelligence on the future of the world in the palm of your hand" (KurzweilAI News); "Strategic planning for the planet" (Foresight); "…vast yet very readable source of insight (The Futurist); "…the professional world listens attentively…a well structured and well written book" (Technological Forecasting & Social Change); "The most influential annual report on what we know about the future of humanity" (Paul Werbos, National Science Foundation).
The Millennium Project is a global participatory think tank connecting 50 Nodes around the world that identify important long-range challenges and strategies, and initiate and conduct foresight studies, workshops, symposiums, and advanced training. Its mission is to improve thinking about the future and make it available through a variety of media for feedback to accumulate wisdom about the future for better decisions today. It produces the annual "State of the Future" reports, the "Futures Research Methodology" series, the Global Futures Intelligence System (GFIS), and special studies. Over 4,500 futurists, scholars, business planners, and policy makers who work for international organizations, governments, corporations, NGOs, and universities have participated in The Millennium Project's research, since its inception, in 1991. The Millennium Project was selected among the top ten think tanks in the world for new ideas and paradigms by the 2013 University of Pennsylvania's GoTo Think Tank Index, and 2012 Computerworld Honors Laureate for its contributions to collective intelligence systems.
Global Foresight Books is the leading authoritative source of substantial and consistent bibliographical research service for professionals and scholars interested in current affairs and foresight literature.