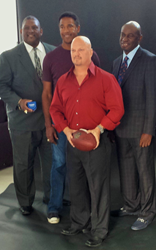 Good health doesn't start without good sleep.
Phoenix, AZ (PRWEB) November 27, 2014
Pro Player Health Alliance (PPHA) recently has put an emphasis on overall health since partnering with the Living Heart Foundation and traveling the country to hold free health evaluations for former professional athletes. Specifically focusing on sleep as the roots to good health, PPHA member and NFL legend Roy Green has said, "Pro Player Health Alliance is not just about sleep. It's about health. Good health doesn't start without good sleep. There's no way around it. If you aren't sleeping well, you aren't healthy. When you have sleep apnea, unfortunately, you're probably dying. There are moments when you aren't breathing!"
In addition to sleep as a main concern, diet and nutrition have come up on the radar as major components of good health thanks to Courtney Meier's valuable expertise. Courtney Meier, who is more than involved in helping dentists add sleep apnea treatment to their practice, is also adept in fitness and dieting. With her input, PPHA has taken overall health awareness to a new level, adding cardiovascular with Living Heart Foundation's HOPE Program, sleep, diet and fitness to the arsenal.
With Thanksgiving being today, PPHA President David Gergen has stated, "I hope everyone has a Happy Thanksgiving, eat well and do not forget to stay active over the holidays." Pro Player Health Alliance is looking to partner with dental professionals nationwide. Dentists looking to join Pro Player Health Alliance in "Tackling Sleep Apnea" need to register for for the American Sleep and Breathing Academy conference meeting in April 2015 at http://asbadental.com. David Gergen, the Executive Director in the Dental Division, will be available for direct contact and support upon registration.
About Pro Player Health Alliance
Pro Player Health Alliance (PPHA) is an organization dedicated to helping former NFL players, through providing testing and treatment options for those who suffer from sleep apnea. In addition, the PPHA is dedicated to integrating education and raising sleep apnea awareness, in a fun and memorable way. In addition to the campaign, the PPHA is dedicated to testing and getting people treated who suffer from sleep apnea. This has been stepped up by working though The Living Heart Foundation and its HOPE program sponsored by the NFLPA. The PPHA was created David Gergen, President of Gergen's Orthodontic Laboratories and Former NFL legends.
About David Gergen
David Gergen, CDT and President of Pro Player Health Alliance, has been a nationally respected dental lab technician for over 25 years. He received the award for "The Finest Orthodontic Technician in the Country" given by Columbus Dental in 1986. He also has been appointed Executive Director of the American Sleep and Breathing Academy Dental Division, a national interdisciplinary academy dedicated to sleep training and education with over 60,000 members. David rolled out of bed on December 4, 1982 and had his career "ah ha" moment. He knew he was going to be an orthodontic technician and he knew he was going to help people all over the country to help treat their sleep disorders in partnership with their dentists. He has worked for some of the pioneers in the orthodontic and sleep dentistry fields. He was the personal technician for the likes of Dr. Robert Ricketts, Dr. Ronald Roth, Dr. A. Paul Serrano, Dr. Clark Jones, Dr. Harold Gelb, Dr. Joseph R. Cohen, Dr. Rodney Willey, Dr. Allan Bernstein, and Dr. Thien Pham. One of his proudest achievements is receiving The National Leadership award for Arizona Small Businessman of the Year in 2004