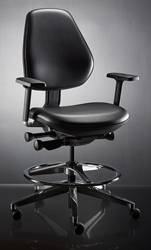 The MVMT line was designed under the premise that in addition to performance, appealing looks impact corporate image, encourage users and help attract top talent.
LAS VEGAS, Nevada (PRWEB) December 01, 2014
BioFit Engineered Products, a leading designer and manufacturer of ergonomic seating and mobile folding tables, will exhibit its newest models at The National Ergonomics Conference and ErgoExpo this week in Las Vegas. Featured products include MVMT™ seating, winner of two industry innovation awards at NeoCon 2014, and the flexible Fin sit-stand – a design created to address jobs requiring extended periods of standing.
Jointly developed by BioFit and Studio Fifield of Milan, Italy, the MVMT line was created for use in the technology, laboratory, healthcare and industrial sectors, with crossover applications in the office market. It combines a unique, trendy aesthetic with intuitive user controls and was designed to provide greater ergonomic functionality and increased range of motion in higher-than-desk-height situations. A highlight is a user weight-activated control – which alleviates the necessity to reset adjustments by individual workers in multi-user/multi-shift workplaces. A BioFit exclusive, it is the first weight-activated control in a predominantly non-office work chair. Other features include a micro-tension control and forward seat tilt and smooth forward backrest adjustments for up-close work such as microscopy and assembly.
"MVMT seating follows the BioFit lineage of highly durable, ergonomic and technologically precise seating, specifically engineered for critical applications," explained BioFit president, Ed Metzger. He continued: "The MVMT differs significantly from an aesthetic standpoint, however. Until now, you could walk into nearly any lab and the seating looked dated – even if it wasn't. The MVMT line was designed under the premise that in addition to performance, appealing looks impact corporate image, encourage users and help attract top talent."
The Fin sit-stand is part of the collaborative bimos by BioFit™ Collection, an initiative between BioFit and leading European seating manufacturer bimos, an Interstuhl brand. The Fin model provides an ideal solution for workers who would normally spend the majority of their shift standing. It is characterized by intuitive, ergonomic functionality featuring a comfortable and durable polyurethane seat mounted on an adjustable inclined pneumatic column. The design enables users to take up to 60 percent of the stress off of their legs and feet, potentially enhancing productivity and performance. Fin seating is well-suited to a range of environments where workers are required to stand for extended periods.
Celebrating its 20th anniversary, the jointly held National Ergonomics Conference and ErgoExpo is the nation's largest and longest running event dedicated to the science of ergonomics. The show features recognized leaders from a variety of industries and is geared toward professionals responsible for the implementation or improvement of workplace ergonomic, health and wellness programs. This year's show runs from December 2 – 5 at Caesars Palace in Las Vegas.
About Studio Fifield: Located in Milan, Italy, Studio Fifield helps business leaders recognize opportunities for innovation and identify breakthrough ideas that can be transformed into commercially successful solutions. Founded by Bruce Fifield, the company specializes in designing products used in the office environment, medical devices, high-end eyewear, sporting goods, and more.
About bimos: Headquartered in Germany, bimos is Europe's leading designer and manufacturer of specialized seating solutions. The company's philosophy is based on combining the latest research and technology with traditional craftsmanship to provide seating that meets the specific needs of individual companies. As an Interstuhl brand, bimos is backed by decades of development and production experience.
About BioFit: Based in Bowling Green, Ohio, BioFit Engineered Products is a leading manufacturer of LEED-compliant, ergonomic chairs and stools, GREENGUARD-certified mobile tables, carts and accessories for healthcare, education, laboratory, industrial, technology and office environments. To experience MVMT and Fin seating, visit BioFit booth 633 at ErgoExpo. For more information, visit http://www.biofit.com or call 800.597.0246.