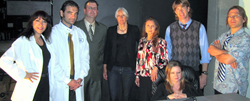 It was so much fun to be in this movie and work with an ambitious teenage director.
Los Angeles, CA (PRWEB) November 27, 2014
Luciana Lagana and her husband Gregory Graham are thrilled to be part of Omadox, a feature film that received 9 awards at the 2014 Zed Fest Film Festival, including an award for best ensemble cast. It is also an official selection of the 2014 PollyGrind Film Festival. This is a great start to a successful cinematic career for James Noel, a young filmmaker who excels in experimental/sci-fi, black and white movies. If you enjoy experimental mystery, filmed in glorious black and white, watching Omadox will keep you amused and confused! The trailer of Omadox is viewable at http://www.youtube.com/watch?v=0t2ziYWo-hY#t=28.
In the movie, the Omadox Helium Corporation is facing a schism. Filmmaker Thomas Spoon, played by the director's father and strongest supporter Edward Parker Bolman, is in the process of documenting the looming dissolution of the hallowed company and uncovers ever more baffling secrets and lies. The cast includes Jerry Sims, Cat Noel, John Fleck (True Blood, Weeds, Howard The Duck, Waterworld), 1960s child actor and director of Radio Free Joshua Tree, Teddy Quinn (General Hospital, The Ghost And Mr. Chicken), and Janet Housden (Redd Kross, Desperate Teenage Lovedolls).
Luciana plays the role of Dr. Itticasana and Gregory is the scientist Steven Williams. "It was so much fun to be in this movie and work with an ambitious teenage director," Luciana shares. "I got to play an Italian ichthyologist, a biologist devoted to the study of fish. My character tries to create a collaboration between Italy and the U.S. to save the fish. I'm glad that I also got to say a few words in Latin. I remember loving Latin in school in Italy, a peculiar passion that very few young students shared with me," she confesses.
Gregory plays a disgruntled Omadox worker who lives for the dream of becoming a successful musician. "I used to be the singer in a touring musical band when I lived in Iowa, so it was easy for me to get into this role," reveals Gregory. "As I grew older, I stopped singing to pursue acting, but I still love music and have a YouTube channel, Heavy Metal Greg, where I post video clips of my interviews with beloved musicians and music personalities shot at concerts and music events," he shares.
James Noel wrote, directed, photographed, and edited the film. He is a creative graduate of John Marshall High School in Los Feliz and is currently studying mathematics at University of California Santa Cruz. Omadox is his second experimental feature film. James also executed the original paintings featured in the film, in addition to composing and performing the multitracked keyboard and saxophone score. His previous feature film, The World, a surreal science fiction dendrochronology western, debuted in Los Angeles last year. James portrayed a feral teen wielding a golf club in Chris Carbone's post-apocalyptic thriller Wolves from Another Kingdom and, like Luciana and Gregory, studied improvisation at Second City. He is also currently in post-production with his third feature film, VREM. In this upcoming movie, Luciana plays the mathematician Anarita Galilei, a relative of Galileo Galilei, and Gregory plays the scientist Frank Fullerton.
Written by Stefanie Friesen
Luciana Lagana is a caring clinical and experimental psychologist. She is also an established professor of psychology, gerontology, sexuality, and women's health at CSU, Northridge, where she teaches classes and mentors many students. Additionally, she conducts government-funded research on ethnically diverse, primarily low-income older women's physical, psychological, social, and sexual health. Concerning her artistic pursuits, since 2006, she has been studying acting and hosting in Los Angeles. She is an award-winning actress/screenwriter/director, with 43 IMDb credits for acting in many independent movies and TV series. Gregory Graham is an award-winning actor/screenwriter/director and has been acting since 2000. He has 55 IMDb credits and has acted in several movies as well as TV series such as "CSI Miami" and "Trust Me."