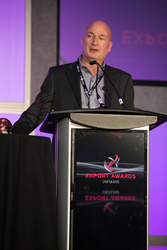 Christie stood out for its track record of investing in research and development to bring breakthrough, industry-first technologies to the world.
Kitchener, Ontario (PRWEB) December 01, 2014
Christie® a global visual display and audio technologies company with advanced manufacturing facilities in Kitchener, Ontario, has earned the first Ontario Exports Leadership Award. The award, presented by the Canadian Manufacturers & Exporters (CME) and Glacier Media, is given to the Ontario company that champions the cause of exporting within its industry.
Christie was also a finalist in the Value-Added Manufactured Goods category, which recognizes an Ontario company that adds value to assemblies or products for export. Th​e awards, honoring 26 finalists in seven sector categories, were presented at a special gala luncheon at the International Centre in Toronto, November 25. Held for the first time in Ontario, the awards paid tribute to the innovative approaches and contributions of Ontario export companies and the individuals who created those success stories.
"The Leadership Award recognizes a company or individual pushing the boundaries on exporting excellence. Christie stood out for its track record of investing in research and development to bring breakthrough, industry-first technologies to the world," said Lisa Wichmann, chair of the 2014 Ontario Export Awards selection committee. "Christie is also cultivating the next generation of exporters and innovators through a highly-regarded co-op program and at the same time, continuing its development of sustainability and employee and community engagement programs."
Commenting on the win, Gerry Remers, President and Chief Operating Officer of Christie Digital Systems Canada, said, "It is an honor to receive the Leadership Award as it not only demonstrates the company's role in exporting, but it is an industry peer and community recognition for Christie's spirit of innovation, entrepreneurship and workforce dedication."
The Ontario Export Awards are a division of the Canada Export Awards, which have been hosted provincially in British Columbia and Alberta for decades.
About Christie®
Christie Digital Systems Canada Inc. is a global visual and audio technologies company and is a wholly-owned subsidiary of Ushio, Inc., Japan. Consistently setting the standards by being the first to market some of the world's most advanced projectors and complete system displays, Christie is recognized as one of the most innovative visual technology companies in the world. From retail displays to Hollywood, mission critical command centers to classrooms and training simulators, Christie display solutions and projectors capture the attention of audiences around the world with dynamic and stunning images. Visit http://www.christiedigital.com.
Follow us:
Facebook.com/christiedigital
Twitter.com/christiedigital
Christie® is a registered trademark of Christie Digital Systems USA, Inc.​