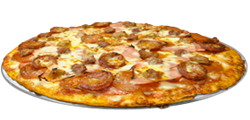 "We deliver, so you don't even have to visit us to get some great food," owner Randy Syracuse
Paso Robles, CA (PRWEB) November 28, 2014
Marv's Original Pizza Co. in Paso Robles announced this month its new makeover to the front facade. Owner Randy Syracuse said the new look for the Paso Robles pizza parlor is to update it and fit the changes made in downtown over the years. Marv's was recently made the list of "Best Pizza in Paso Robles" by the Paso Robles Daily News.
Marv's has been a mainstay in downtown Paso Robles since 1992, crafting pizzas with fresh ingredients -- the dough is made daily and is topped with house-made classic red, creamy white garlic, pesto or tangy barbecue sauce. In addition to pizza, Marv's also serves classic and nouveau pastas, salads and sandwiches.
"I have been a huge fun of Marv's Pizza since I moved to Paso in 2006," said Kristene T. of Paso Robles. "I grew up in an Italian neighborhood in the East. All my neighbors spoke Italian until I was 4 years old. I know good pizza. Marv's is great."
"Plus we feature a large selection of beer and premium local wines," Syracuse said. "In fact, we've got a complete Italian menu, and our location overlooks Paso Robles' beautiful Downtown City Park."
The downtown pizza company -- located across the street from Paso Robles Downtown City Park and next door to a wine tasting room -- employs about 15 people. It was started by Marv, from whom Syracuse purchased it. Previously, Marv ran Round Table Pizza, but eventually decided to open his own pizza restaurant. Randy, who had been in the studio business in Southern California, decided he wanted a new pace of life on the Central Coast. He was looking for a local business with a great reputation and when he found Marv's, he said "the rest was history."
"We deliver, so you don't even have to visit us to get some great food – though we would love to see you in person as well," Syracuse said, adding that the pizza company will deliver to Paso Robles, Templeton, San Miguel, Geneseo and Jardine.
"It's a great place for families looking for a great atmosphere and food, guys looking to watch sports on the new flat screen TVs and enjoy a cold beer," Syracuse said, who added that the restaurant televises all sports on its televisions.
Marv's Original Pizza Co. is located at 729 12th St. in Paso Robles. For more information, go to http://www.marvspizza.com or call 805-238-1851. Marv's is open Monday through Thursday from 11 a.m. to 9 p.m., Friday and Saturday from 11 a.m. to 9 p.m. and Sunday from noon to 9 p.m.