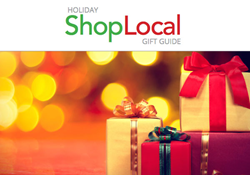 "When shopping with local merchants – whether looking for that perfect gift or treating oneself – more of the money stays close to home," Scott Brennan says.
Paso Robles, CA (PRWEB) November 28, 2014
This holiday season, the Paso Robles Daily News is asking community members to shop locally and support local businesses – the preferred outlet during this gift purchasing season. "Nearly two-thirds of the money spent at locally owned businesses across the nation is reinvested in individual communities," says Scott Brennan, editor and publisher of the Paso Robles Daily News. "When shopping with local merchants – whether looking for that perfect gift or treating oneself – more of the money stays close to home and will help support the parks, recreation facilities, libraries and other aspects of the area that help to make this community a great place to live."
"Shopping locally helps all the small businesses in our community continue to thrive and helps create local jobs," said Norma Moye, executive director of the Paso Robles Downtown Main Street Association. "The business owners and their staff are vital to our community, not just during the holidays but throughout the year, especially when it comes to supporting and producing the many events that we all enjoy. When we shop locally, we can pay things forward to those businesses and help our community thrive."
With the holiday shopping season in full swing, the following merchants are offering their usual blend of hospitality and warmth along with extended hours and one-of-a-kind items to make this gift-giving season a jolly one.
Peaceful Moments by Sharon Rae
Looking for the perfect gift for that special someone who has everything? A gift certificate for a relaxing massage from Peaceful Moments by Sharon Rae is sure to be at the top of everyone's wish list this holiday season.
As a special gift to her new and established customers, Sharon Rae is offering a complimentary 30 minute massage gift certificate with the purchase of any 60 minute or more gift certificate — so one can give a gift and reward oneself as well! Imagine relaxing, listening to soft music, and having a massage in a warm, comfortable, quiet room after a full day of shopping, cooking, or entertaining guests.
"I appreciate the support and confidence of my local clientele and I look forward to bringing more Peaceful Moments to new clients during the holiday season and into 2015," says Sharon Rae.
Specializing in therapeutic and relaxation massage, Sharon Rae has been relieving pain and bringing calm to locals since 1995 as a licensed and certified massage therapist. Peaceful Moments is located at 225 Posada Lane Suite C in Templeton — and Sharon Rae makes house calls by special appointment.
Contact her today at (805) 391-4674 or peacefulmomentsmassage(at)gmail(dot)com for more information on the holiday gift certificate special (limit one per customer, offer expires Jan. 15, 2015). Learn more at peaceful-moments.massagetherapy.com.
Country Florist and Gift
Throughout the holiday season, celebrations are widespread — from intimate gatherings to office parties, it's all about spending time with friends and family. There is added reason to celebrate this year for Kay McLain, owner and designer at Country Florist and Gift, as she marks 30 years of serving the local community.
"Over the years, my customers have become my friends and family," says McLain, "and I cannot say enough to thank everyone for their support over the past 30 years."
As a special thanks to her loyal customers, McLain will hold a Community Open House at Country Florist and Gift, located in the Von's Shopping Center at 1191 Creston Road, Suite 114, from 9 a.m. to 5 p.m. on Dec. 13. Stop by, congratulate McLain and her friendly staff, and stay for hors d'oeuvres and beverages.
"We will also be featuring sale items and there will be drawings and raffles for some very special gifts," says McLain, "including items from Vera Bradley, Willow Tree, and Crabtree & Evelyn."
Be sure to pick up a few unique gifts at Country Florist and Gift for those special someones on the shopping list — or perhaps a floral arrangement for a favorite hostess.
"There's plenty to celebrate this holiday season in our community," says McLain. "I feel very thankful and blessed."
For more information on Country Florist and Gift, call (805) 239-3032 or visit countryfloristandgift.com — and be sure to "like" them on Facebook.
Paso Robles Veterinary Medical Clinic
When it comes to holiday shopping for friends and family, the staff at Paso Robles Veterinary Clinic would like to remind their local clients to pick up a special gift for furry family members as well.
Doctors Deb and Jim Weist offer the following gift ideas for dogs & cats: a new collar and leash, low-fat treats, a mani and pedi treatment, a bottle of aloe/oatmeal shampoo, and Soft-paws for cats in fashion colors. For the animal lover, gift consider a custom paw-print ornament, a new puppy or kitten wellness package, or money towards a friend's veterinary account.
"We also encourage the community to consider helping those in need during the holidays," says Dr. Deb. "Donate towels, blankets or toys to an animal shelter, help cover veterinary services for a homeless person's pet, or purchase a gift certificate for a pet's spay/neuter services."
In addition, Dr. Deb says animals can undergo stress during the holidays, much like humans. To help, Paso Robles Veterinary Clinic has Feliway for cats and Adaptil for dogs available for purchase — both are natural stress relievers. When traveling over the holidays, Dr. Deb says safety comes first: ensure rabies tags are intact, health certificates are packed, and collars, harnesses, and leashes are readily available.
"On behalf of our entire staff, Dr. Jim and I wish everyone a safe and happy holiday season with their pets," says Dr. Deb.
For a limited time, all dog and cat exams include a free packet of Lean Treats. Call (805) 238-3140, stop by 725 Walnut Drive, or visit pasovets.com for more information on Paso Robles Veterinary Clinic.
Chili's Grill & Bar
Whether shopping for friends or family members, there's no doubt that everyone on the holiday gift list will appreciate a gift card from Chili's Grill & Bar. Keeping with the holiday spirit of giving, Chili's is rewarding those purchasing $50 in gift cards through Dec. 31 with an additional $10 gift card.
"Our gift cards work well for those needing to send a gift out of state or looking for a last minute gift — just go to chilis.com to email or print out a card," said Chili's Senior Managing Partner Wes Williams, who oversees the Paso Robles and Arroyo Grande locations.
And purchasing a gift card at Chili's doesn't have to break the bank — diners will enjoy an appetizer and two entrees on the 2 for $20 menu, or perhaps the $36 option that includes two movie tickets to the Galaxy Theatres in Atascadero would fit the bill. Be sure to take a break from the hustle and bustle and treat the family to a nice meal this holiday season as well.
Known worldwide for its Tex-Mex menu, Chili's celebrates its Texas heritage by adding a bit of spice and flair to a menu that includes a wide variety of food and drink options. Famous for its Big Mouth Burgers and some of the best fajitas and margaritas around, Chili's specializes in offering several nutritional menus including gluten-free, peanut-free, and more.
"At our Paso Robles location, many local staff members, including our Kitchen Manager Saulo Gomez, are committed to our guests' dining satisfaction," says Williams. "Our commitment to community involvement through fundraisers, donations of time and resources sets us apart. Our entire team wishes everyone a safe and joyous holiday season."
To purchase a gift card, call (805) 226-9226, stop by Chili's at 2001 Theater Drive in Paso Robles, or visit chilis.com.
Paso Robles Main Street Association – Shop Local Campaign
There is perhaps no other organization in town that supports keeping shopping dollars local than the Paso Robles Main Street Association — and this is never more evident than during the holiday season. As an alliance of merchants, business owners, stakeholders and community members, Main Street is committed to preserving and bolstering a thriving downtown while serving the Paso Robles community.
Just in time for the holidays, the Annual Holiday Craft Bazaar on Nov. 28 will feature a variety of booths stationed throughout Downtown City Park with arts, crafts and handmade goods from local purveyors; admission is free.
"The Holiday Craft Bazaar has become a tradition in our community," says Main Street Executive Director Norma Moye, "and it is a wonderful way to support local crafters. While there, visit some of the creative shops downtown and stay for lunch. In addition, there are several local businesses throughout Paso Robles that have great deals this holiday season."
Be sure to stick around for the Downtown Lighting Ceremony on the evening of Nov. 28 when Mrs. Claus arrives to light the park trees at 5:30 p.m. — all are invited to share in the holiday joy with live music, candlelight caroling, free cookies, and hot chocolate.
"It's our special gift to the community and a way for everyone to celebrate the joys of the season together," says Moye.
For more information, including additional holiday events and local vendors, call (805) 238-4103 or visit pasoroblesdowntown.org.