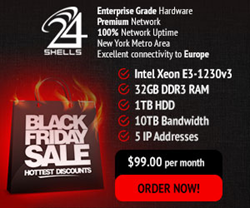 Big Savings on Dedicated Servers from 24Shells
Philadelphia, Pennsylvania (PRWEB) November 28, 2014
From November 28 to December 1, 2014; 24Shells is planning to offer a magnificent discount on one of its high performance dedicated servers plans.
Today 24Shells, Inc., a global provider of business and open internet infrastructure, announced its Black Friday Deals for 2014. 24Shells plans to offer a magnificent discount on one of its high performance dedicated server plans. This Deal will be available to both new and existing clients but can only be applied for new orders.
From November 28 to December 1, 24Shells will be offering E3-1230v3 servers located at its New Jersey Data Center for $99 a month. These dedicated servers feature 32GB of RAM, a 1TB SATA or 120GB SSD HDD, and 10 TB of bandwidth. This incredible deal is only available while supplies last.
"At 24Shells, we always have been delivering the most robust and cost effective infrastructure solutions for our clients IT needs without compromising on high-quality service, explained 24Shells CEO Tushit Shah. The upcoming holidays give us an occasion to set our prices on one of our high performance plans at a ground-breaking price. Even though we hope to bring in new clients, this deal will also give our existing clients a scope to expand their services with us".
Though it has not been the first time that 24Shells is offering such deals, it can be said that this deal is one of a kind. The E3-1230v3 dedicated servers normally retail at $139, meaning that clients who purchase one before December 1, 2014 will receive a discount of almost 40%. "Mr. Shah continues by saying that this deal on dedicated servers is not just another way of saying thank you to its existing clients but also a warm welcome for new clients".
About 24Shells, Inc:
24Shells, Inc. is a privately owned company which was established in 2003. Ever since then 24Shells has always persuade to provide its clients with the highest customer service in this industry. 24Shells product portfolio ensures that they can meet their clients' needs quickly and efficiently with a flexibility seldom offered by its industries competitors. Dedicated Servers, Private and Public Clouds, Virtual Private Servers, award winning infrastructure virtualization, 100% Uptime SLA, IP transit and outstanding rapid 24/7 support – the best in its industry - help to provide every customer with the platform that meets their every demand constantly. For more information, visit 24shells.