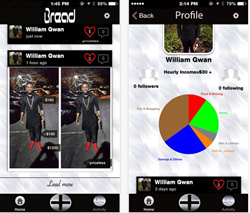 Washington, D.C. (PRWEB) November 27, 2014
The company, Five Conditions, Inc., is pleased to announce the launch of its newest app called, "Bread". The Bread App has been designed and created to make the job of money management much easier.
The Bread App has been described as a finance diary in picture format. The social money management app shows the user how they're spending their money in picture format.
Company founder of Thebreadapp.com, Bill Gwanyalla, comments, "We all make money but have unique ways to spend it. Our new app will quickly show you where your money is going. We are trying to make money management cool for our generation." Gwanyalla adds, "This version of Bread is still at its infancy stage in development. The vision has just begun, and there's way more to come."
Creators of The Bread App hope to give users the ability to visualize their expenditures instead of pouring over a long boring bank statement. Their target audience is the Millennial Generation, which roughly consists of those born between the years 1980 and 2000. Also known as the "New Boomers", the Millennial Generation is generally more civic minded with a strong sense of community. These traits have shown to make them more fiscally responsible as well and better at money management than previous generations.
Five Conditions, Inc. has also created an app called, "Flash Messenger". This app allows friends to view text messages as they are being typed. It makes texting much faster and more secure. Flash Messenger is an anonymous messenger where the text message is flashed instead of being sent to third party servers.
About the Company
Five Conditions, Inc. was founded by Bill Gwanyalla. It is a small startup company located in Washington DC that creates innovative apps that make life more fun and entertaining. They have plans to continue to design and create money management and/or finance apps, as well as many others. For more information, please visit the website: http://www.thebreadapp.com/ or to download the app go to: https://itunes.apple.com/us/app/bread!/id939214017?mt=8