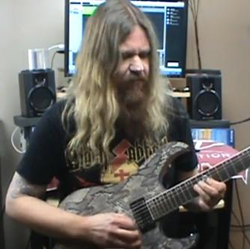 (PRWEB) November 28, 2014
Darrin starts off this easy guitar lesson by performing an easy melody based from the major scale as follows. 3rd fret of the 4th string to the 5th fret to the 7th fret to the 8th fret and then descend back down the sequence. Next Goodman demonstrates how to create your own harmony of this melody with the use of double stops and using the intervals of major thirds, minor thirds, perfect fourths and perfect fifths. Darrin does a great job of explaining the difference between the different intervals and their shapes on the fret board and how to diatonically choose the correct ones to achieve the desired sound of the harmony. Darrin demonstrates the main riff from the song Brown Eyed Girl by Van Morrison as an example of how to execute this concept correctly. Guitar TAB's are available for this easy beginner guitar lesson at GuitarControl.com.
Double Stops is the technique of playing two strings at the same time, usually done using the hybrid picking technique.
The major scale, aka the Ionian Mode, is a seven tone diatonic scale that is widely used in western music. The eighth duplicates the first at double its frequency so that it is called a higher octave of the same note, which its name is derived from Latin "octavus", the eighth.
Darrin Goodman
Darrin Goodman, a native of Ogden Utah, began playing guitar at the age of 12 after hearing KISS at an earlier age. Darrin has been a local finalist for the King of the Blues contest and is the lead guitarist of international recording artist Sonic Prophecy who has performed with artists such as Accept, Sabaton Cinderella and Ratt. Darrin has been teaching private lessons to 30 to 60 students a week from his home studio since 1987.
About GuitarControl.com
GuitarControl.com is the leader in modern guitar instruction. It's packed with recourses including articles, video lessons, and the best videos in the business for the beginner to the advanced guitar student taught by the best instructors out there. Weather you are into the blues, rock, jazz, metal, folk, or anything in between, they have you covered.