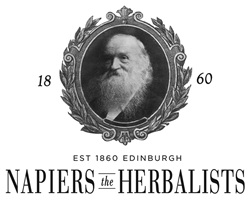 Our motto is TRIED. TESTED. TRUSTED and we live this daily
(PRWEB) November 29, 2014
Established in 1860, Napiers the Herbalists provides a wide range of tried, tested and trusted natural remedies, herbal medicines, herbal skincare, vitamins and supplements to customers worldwide. The company strives to follow founder Duncan Napiers' dream to "provide an affordable choice of natural health care for all people."
Napiers products are 100% natural and are made in Britain using herbs primarily from UK farms. For the ethical consumer, Napiers provides an herbal, organic alternative to products produced by large pharmaceutical companies using questionable methods and ingredients.
Monica Wilde, Napiers' director says; "Our motto is TRIED. TESTED. TRUSTED and we live this daily. Our remedies have been tried and tested by generations of people who return to us decade after decade because they trust us".
Napiers holds THR herbal medicine licences and run pharmaceutical-grade distribution and pharmacovigilance systems, all which are inspected by the Medicines and Healthcare Products Regulatory Agency (MHRA). All Napiers accredited practitioners are fully qualified and are members of their practice associations such as The National Association of Medical Herbalists (NIMH).
Napiers use their specialist herbal knowledge combined with scientifically based research to develop their products. Their latest Speedwell skincare line was developed following a collaboration with the Royal Botanic Garden Edinburgh, which found that Scottish Speedwell plant extract has anti-inflammatory and antioxidant properties that can help slow down or prevent cell damage, resulting in a powerful wrinkle reducing action.
The Napiers affiliate program offers commission incentives starting at 30%, worldwide promotion opportunities, free delivery in the UK for orders over £50.00 and free product samples. Affiliates also have access to useful resources for promotion including product manuals and scientific articles.
Moreniche's Head of Client Services, Kirstie Eager says "Napiers is a fantastic addition to MoreNiche, helping our affiliates expand into this ever growing market. It is a pleasure to have such a well trusted and established brand on the network."
Find out more about the Napiers affiliate program on Moreniche here.