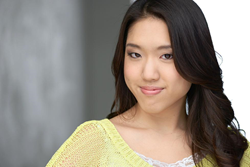 Kim is here to stay, and she's serious about success.
Hollywood, CA (PRWEB) November 28, 2014
South Korean born Actress, Christine Kim, is more than just a beautiful asian goddess. She is on the verge of becoming Hollywood's next motion picture queen.
Dessler Media is proud to announce that newly-signed client, Kim, is starring in the romantic film, "A-Muse", which is expected to be released in 2015. "A-Muse" is directed by Stefanie Bodkin and written by Derek Ziarkowski, and tells the tale of a mousy literary assistant (played by Kim) who finds herself stumped with an unfinished manuscript and must locate the author to complete the story.
"I am honored to work with such a talented team," said Kim. "This is a story that everyone can relate to. It forces you to recognize and address all of the unfinished business you have in your life, and let's face it, we all have unfinished business we need to tend to."
The breathtaking Korean beauty appears to be in high demand right now. One can safely say that Kim has a lot on her plate these days, starring in such films as, "The Day", "B+", "The Interlude", and "Better Than Normal," all of which were released in 2014.
Not to mention, Kim is also featured in the upcoming TV Series, "Real Rob," which stars popular comedic actor and "Saturday Night Live" alumnus, Rob Schneider. And it doesn't stop there, Kim is also featured in another TV Series set to debut in 2015 entitled, "Newlywed and Broke."
"This is a dream come true," cried Kim. "This is exactly why I moved to Hollywood - to showcase my talents and pursue my life-long dream of becoming a successful actress."
Kim's dream of becoming an actress began at age eight, after watching the iconic film, "The Sound of Music" starring the legendary, Julie Andrews. Since that time, acting has been Kim's passion, and she has worked tirelessly to hone her skills and master her craft. If you were to glance at her resume, you would see just how serious this South Korean beauty is. Education is very important to Kim, and she enjoys soaking up knowledge like a sponge and learning all the tricks of the trade. As a result, she proudly possesses a B.A. in Theatre Arts from SUNY at Stony Brook, and an MFA in Acting for Film from New York Film Academy at Los Angeles, CA.
"I want to be the best actor I can be," said Kim. "I take my career seriously, which explains why I am always consuming as much knowledge as possible."
If 2014 has been any indication as to how much potential Christine Kim possesses, one can only assume that 2015 will be another banner year for the young South Korean beauty. Like the old saying goes, "the sky's the limit" and it appears as if Kim's future is as bright as her picture- perfect and radiant smile.
"It's true what they say, hard work pays off," Kim exclaimed. "Casting Directors in this town (Hollywood) appreciate my work ethic and dedication and I couldn't be happier."
Hollywood better take notice. Kim is here to stay, and she's serious about success.