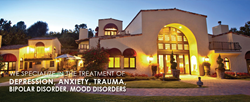 Malibu, CA (PRWEB) November 28, 2014
Bridges to Recovery is proud to announce that they are now utilizing a revolutionary brand new approach to treating Bipolar disorder. In serious cases, bipolar disorder treatment is often compromised by the extreme mood swings that accompany both manic and depressive phases. This creates roadblocks that make it difficult for bipolar disorder sufferers to maintain their recovery by:

consistently complying with instructions for medications necessary to regulate mood
actively engaging in outpatient treatment
avoiding destructive choices in their efforts to cope with their symptoms
When treatment fails to provide relief, feelings of hopelessness and emotional despair often overwhelm both the sufferer and his or her loved ones.
At Bridges To Recovery, each patient with bipolar disorder receives consistent emotional support as they begin to learn healthy ways to experience their mood and emotions. BTR's staff takes a holistic, integrated approach to support patients who suffer the ups and downs of bipolar disorder in finding stability. They also recognize that a long history of struggling with manic and depressive symptoms can trigger addictive behavior patterns, and vice versa, which requires special care. That's why many patients require more integrated treatment for bipolar disorder and other mood disorders.
What is Bipolar Residential Treatment like at Bridges to Recovery?
Many people suffering from a bipolar disorder benefit from intense treatment, particularly in the context of an ongoing mood episode. Some patients in the midst of these episodes will require inpatient psychiatric hospitalization. For patients whose symptoms are severe and difficult to manage, but do not require treatment in a locked inpatient setting, Bridges to Recovery offers a residential treatment setting in which staff have the expertise to manage bipolar symptoms. Doctors and therapists with years of experience treating bipolar disorder work diligently to find answers and treatment solutions that will return those suffering from bipolar disorder to a healthier and more enjoyable mood state.
The small group setting at Bridges to Recovery provides protection and support, as well as careful monitoring for those who are scared and vulnerable. Residents at Bridges recovery center are given the time and attention necessary to confront their symptoms and learn to cope with them. Those closest to the patient are encouraged to be a part of this process and play a crucial role in facilitating recovery.
The goal of every Bridges to Recovery medical team is to help each patient reach the point of living confidently in their own homes and workplaces, with a strengthening of their capacity to tolerate life stressors and mood swings. Although bipolar disorder can be a disabling condition, our hope at Bridges to Recovery is to provide clients with the treatment and tools for self-reflection that will enable them to enjoy productive lives and loving relationships.